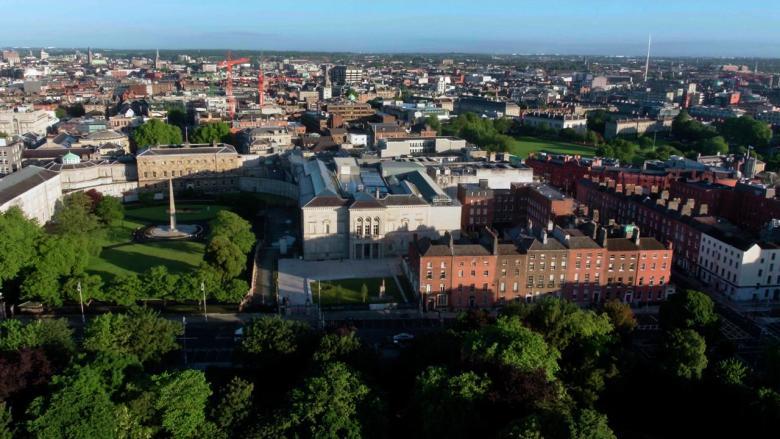 Contact:
Images & Licensing Department
National Gallery of Ireland
Merrion Square West
D02 K303
Ireland
Tel + 353 (0) 1 6615133
Email [email protected]
Guidelines
While filming or recording on location in the National Gallery of Ireland, the Production Company shall ensure that their personnel/ contract staff shall at all times: 
Follow promptly and courteously the directions of Gallery employees regarding access, supplies, obstruction and routing of power leads

Safeguard and keep free from damage or loss, the buildings, including the walls, skirting boards, flooring, ceiling and other items in and about the fabric of the building as well as the items and objects on display or otherwise at the location and in the National Gallery generally during the Access Period

Observe all relevant by-laws, regulations, health and safety requirements, fire regulations or matters relevant to the use of the location or and the conduct of the production
The Production Company shall ensure that their personnel do not:
Touch or interfere with any painting or other exhibit at the National Gallery in any way

Smoke, eat or drink on the location

Use hazardous or flammable chemicals or materials (other than film stock)
Technical
Using equipment
The Production Company and its nominated film crew using cameras, lights, tripods, sound equipment, must ensure they are at a distance of at least 70 cm back from artefacts to avoid collision

All equipment must not obstruct any passageway or restrict access to rooms

Leads must be well covered to avoid people tripping over them or run alongside the edges of the room. Sticky tape such as masking tape should not be used as it leaves a residue on the floors

Any request for the use of tracks on the floor must be notified in advance with the Gallery
Heat from lights
Light is limited to Lux 1000 and the use of UV light (black fluorescent light) is prohibited. Please check lights after 15 minutes. If they are very hot, please ask for them to be turned off until they cool down.
Gaseous substances
Any kind of steam machines or special effects like cracked vapour are not permitted on location.
Model releases
If members of the public, staff or contract staff are to be included in the shots, this must be negotiated separately by the film crew with model releases. The Gallery cannot be held liable for material that may cause embarrassment.
Copyright
The Production Company will be advised of any works that are in copyright during filming on location on nominated date, in the public galleries / non public areas. Any works filmed that are in copyright must be cleared with copyright holders in advance. This can be done with the assistance of the Gallery.