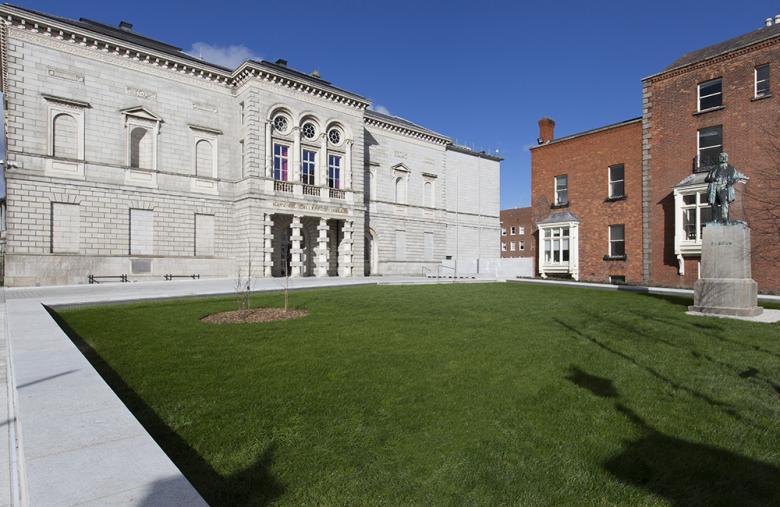 Photo © National Gallery of Ireland
Credit
The Board comprises up to seventeen members, of which ten are appointed by the Minister for Tourism, Culture, Arts, Gaeltacht, Sport and Media, five are ex-officio holders of the offices listed below, and two are nominated and appointed by the Royal Hibernian Academy pursuant to a power bestowed on them in the 1854 Act. Members appointed by the Minister serve terms of five years. Ex-officio members serve terms of varying duration depending on the constitution of their organisation. Read more information on terms and appointment dates.
Royal Hibernian Academy (RHA) | President
Royal Dublin Society (RDS) | President and Vice President
Royal Irish Academy (RIA) | President 
Office of Public Works (OPW) | Chairman
Current members 
Maurice Buckley | Chairman of the Office of Public Works (OPW).   Previous management and consulting roles included the NSAI, System Label, AEG, and the Boston Consulting Group.  Chartered Director, MBA, MEng and FIEI.  
Mary Canning | President of the Royal Irish Academy. Chair of the Governing Authority of Maynooth University in December 2019.  PhD in Literature from University College, Dublin nd D.Litt (honoris causa) NUI (2014). Former World Bank Lead Education Specialist based (Washington DC) (1992-2007 OECD Higher Education Examiner team member (Europe and Latin America). Former board member of Higher Education Authority (2007-2017). Appointed to the National Strategic Review of Higher Education in Ireland (2009). 
Diana Copperwhite | Member of the RHA contemporary artist. Recent solo exhibitions include Driven by Distraction, Royal Hibernian Academy, Dublin (2016), Depend on the Morning Sun, Thomas Jaeckal Gallery, New York (2016) and A Million and One Things Under the Sun, Kevin Kavanagh, Dublin (2015). Works held in numerous public and private collections including: the Irish Museum of Modern Art, Arts Council of Ireland, Limerick City Gallery of Art, Office of Public Works, Contemporary Irish Art Society, Highlanes Municipal Art Gallery, Mariehamn Stadbiblioteque, Aland (Finland), Dublin Institute of Technology and The President of Ireland.
Gary Coyle | Member of the RHA and Aosdána with experience in a variety of different medias such as drawing, photography and the spoken word. Recent solo exhibitions include: On Returning, The Lexicon, Dun Laoghaire (2021); Dreaming Different Dreams, The Kevin Kavanagh Gallery, Dublin (2020); My Magnetic North (a performance) Project, Dublin, (2018); and Now Still Came Evening On, The Dock Carrick on Shannon, (2016). Works held in various public and private collections including Irish Museum of Modern Art, Arts Council of Ireland, Irish Contemporary Art Collection and The David Kronn Collection.
John Dardis | Vice-President Royal Dublin Society, ex-officio 
Dan Flinter | Chairman of the boards of PM Group Holdings, The Irish Times and VCIM Venture Capital. A non-executive director of Aryzta AG and Dairygold Co-Operative. Former CEO of Enterprise Ireland, and a former executive director of IDA Ireland. MA in Economics from UCD, and is an Eisenhower Fellow.
Jacqueline Hall | Principal of Partners in Communication, a consultancy specialising in Corporate Communications, Public and Regulatory Affairs. Senior Adviser with KREAB International.  Over 30 years' experience with Irish and multinational organisations across a range of sectors. President of the Public Relations Institute of Ireland (2014-2016). Former Board Member of Irish Water, Ervia, Fighting Blindness and Rehab Foundation. B.A. in History of Art and History (U.C.D), a Graduateship in Marketing (M.I.I), a Graduate Diploma in Corporate Governance (Michael Smurfit School of Business) and an Advanced Diploma in Data Protection from the Honorable Society of King's Inns, Dublin .
Gary Jermyn | Fellow of the Chartered Accountants in Ireland, poet and performer.
Mary Keane (Chairperson) | Deputy Director General and Director of Policy & Public Affairs with the Law Society of Ireland. Director of Irish Rule of Law International, a registered charity that promotes the rule of law in developing countries. Qualified Barrister-at-Law.
Professor J Owen Lewis | President of the RDS. Emeritus Professor of Architectural Science, UCD Dublin. Non-executive director of the Marine Institute. Chief Executive of the Sustainable Energy Authority of Ireland (SEAI) (2009-2012). Part-time Executive Director for Innovation and R&D at Bord na Móna (2006-2008). Dean of the Faculty of Engineering & Architecture UCD Dublin and later Principal of the UCD College of Engineering, Mathematical & Physical Sciences (2001-2006)
Abigail O'Brien | President of the RHA, Contemporary Artist. O'Brien's work employs many media including photography, sculpture, video, sound and hand-made embroidered objects and explores themes such as ritual, rites of passage and the domestic realm. Currently working on The Cardinal Virtues, Fortitude, Temperance, Prudence and Justice. Featured in private and public collections including, The Irish Museum of Modern Art, Dublin, The Caldic Collection, Rotterdam, The Museum of Modern Art, Vienna, The Gemeentmuseum, The Netherlands and Centro National des Artes, Mexico. MA Fine Art Painting from The National College of Art and Design, Dublin (1998); born in 1957. President of the Royal Hibernian Academy in Dublin, the first female president of the RHA in almost 200 years. Secretary of the RHA from 2012 until 2017, the first female artist to hold this position. O'Brien's work has been supported by the Arts Council of Ireland and Culture Ireland. Lives and works in Ireland.
John O'Doherty | Managing partner KOD Lyons Solicitors, Ireland's largest criminal law firm and award-winning human rights practice. Sole Irish member, Solicitors Law Group, an international network of medium sized independent law firms. Studied Business and Economics at Trinity College Dublin and qualified as solicitor from Law Society of Ireland in 1997.
Barney Whelan | Former Director of Communications, Corporate Affairs, Brand Development and Marketing at An Post, former Public Relations Manager at ESB, with responsibility for public relations, public affairs and brand communications. Former Director of Sales and Marketing at The Food Safety Promotion Board. Former board member of the National Concert Hall. Chair of the Cork International Film Festival. Previous experience in the aquaculture industry. Doctorate in Fish Pollution Ecology, MBA on the economic impact of "environmentalism" and Diploma in Fish Pathology (Stirling University). Extensive experience in fundraising/PR, marketing, corporate governance and business management.
Niamh O'Connor (Board Secretary) | Chartered Company Secretary with the Chartered Governance Institute UK and Ireland with experience in company law compliance and corporate governance. Bachelor of Civil Law (Law with Philosophy), UCD (2015).