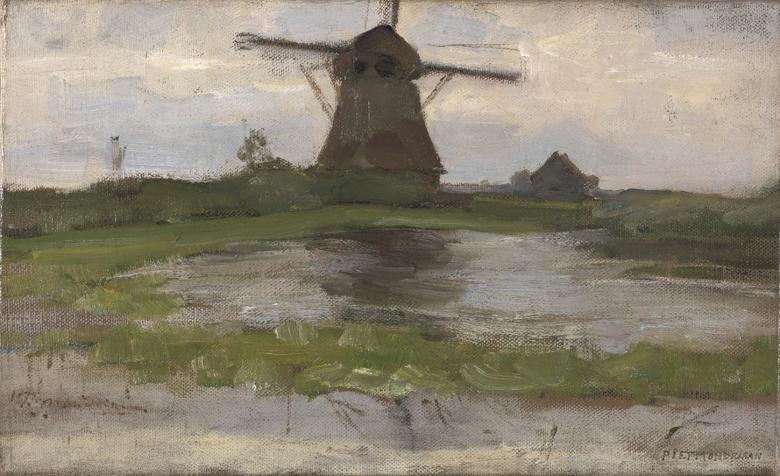 Piet Mondrian (1872-1944), Oostzijdse mill, 1905. Courtesy of Kunstmuseum Den Haag, The Hague, The Netherlands.
Credit
While our onsite activities are reduced, our Education team are bringing some of their family and sensory workshops to you online so that you can get creative at home!
Follow this step-by-step sensory activity to create a mini windmill. This activity will engage your child's senses and is particularly suitable for those who seek out sensory input.
Dutch painter Piet Mondrian (1872–1944) was inspired by views of the world around him. Take a look at his painting of a windmill in the countryside, illustrated at the top of this page.
For this activity, you're going to construct your own windmill using materials you have at home.
Let's get started!
Because of new e-privacy measures on our site, you'll need to click on the cookie symbol in the bottom-left corner of this page and tick the boxes to accept statistics and marketing cookies in order to watch this video. Or, you can scroll down to read the instructions instead, or watch the video on YouTube.
National Gallery at Home
Mondrian's Windmills
Play
Materials:
Paper
Scissors
Ruler
Pencil
A thumb tack
A small rubber or a cork cut in half
A cardboard tube from a toilet roll or kitchen roll
Some colours - you can use paint or markers or pencils!
Instructions:
Cut your paper into a square measuring 15cm x 15cm.
Decorate the square of paper using pencils or markers.  
Fold the paper diagonally (so that it looks like a triangle) and crease it lightly with your fingers.
Open the paper back up.
Now fold your paper diagonally in the opposite direction so it looks like a triangle again.
When you open it back up again, the creases will look like an X.
Cut the creases to about halfway from the centre of the paper. 
Bend every second corner into the middle so that the points meet in the centre.  
Push the thumb tack through all four points in the centre. 
Now it is time to decorate the cardboard roll! You can use paints or markers or pencils. Just remember to let the paint dry before moving on to the next step.
Attach the folded paper to the tube by pushing the thumb tack through the cardboard near the top.  
Push the rubber or cork on to the pointy end of the thumb tack so it acts as a stopper to keep the thumb tack from falling out.
Wow! You've built your own windmill. Well done! You can take a photograph of your windmill with the sky in the background like Mondrian's windmill paintings. 
Credits: Activity by Ciara Harrison for the National Gallery of Ireland.
This activity, which would normally have taken place in the Maples Group Creative Space, is now brought to you online.