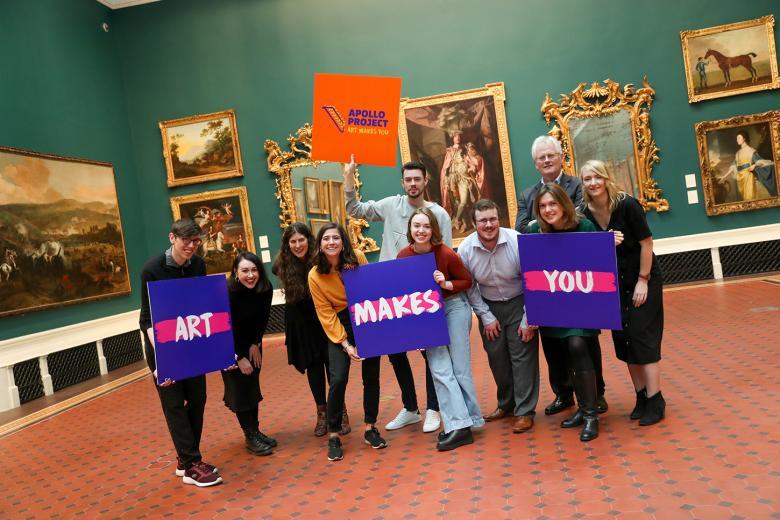 Apollo Project participants with Sean Rainbird, Sinead Rice and Jessica Supple of the National Gallery of Ireland and Clare Mason and Peter Tim Lynch of DesignWorks. Photo: Maxwell Photography
Credit
Do you want to make fun and immersive events for young people at the National Gallery of Ireland? 
Be a part of the Gallery's first ever Youth Panel!
The Apollo Project is looking to collaborate with a group of young people (aged 16-25) to create the Gallery's first ever Youth Panel! 
Starting in October 2022, you will develop your Youth Panel in partnership with Gallery staff members. Through a series of dynamic creative workshops, you will explore what the Gallery has to offer, get to know other young people, and form a Panel that reflects your voices, interests, and communities. In November, you will plan and hold a launch event to celebrate and showcase your Panel. 

What is the Apollo Project?
The Apollo Project is BY young people, FOR young people! Since 2019, the Apollo Project has empowered young people aged 16-25 to make and enjoy art on their terms. Creativity, education, and well-being are at the heart of everything we do. Further information on our past activities, projects, and initiatives can be found here. The Apollo Project is supported by the Apollo Foundation, co-produced by young people of all abilities, the National Gallery of Ireland, and Russborough.
The Apollo Project collaborates with young people to create bold, new ways of experiencing their national collection at the National Gallery of Ireland. The Gallery is Ireland's major national cultural institution devoted to the collection and care of fine art. We are committed to care for, interpret, develop and showcase art in a way that makes the Gallery an exciting place to encounter art. Our vision is to provide an outstanding experience that inspires an interest in and an appreciation of art. 
Believe in your potential. Live a creative life. ART MAKES YOU!
What is involved in a Youth Panel? 
Youth panels typically involve a group of young people meeting on a regular basis to inform and shape programming for their age group within a cultural institution, art group, or creative space. Programming may include creative workshops, social media posts, tours, discursive sessions, talks, interpretations of collections and exhibitions, research, and more. Panel members usually stay in their roles for a year. 
What will you get out of the Youth Panel?
This is a voluntary opportunity for anyone aged 16-25 with an interest in, and curiosity about, art, culture, and history. Travel expenses, materials, as well as food and refreshments will all be provided by the Gallery. 
You will have opportunities to:
•    Develop fun one-of-a-kind experiences at your Gallery
•    Make friends and enjoy a lively space to hang out
•    Create and celebrate art that matters to you
•    Share your ideas and gain new insights in a safe and open environment
•    Participate in interactive work experience, education and learning, mentorship, and skill sharing
•    Develop career skills in team building, problem solving, organisation, social media campaigns, adaptability, self-management, and so much more
•    Receive support and mentorship from other young people and Gallery staff
There's no right way to experience art, so let's have fun with it together. Your involvement in the panel is up to you. No matter how you choose to take part, we will support you and make sure you get something out of this experience. 
Key times, dates, & locations
Meetings will be held weekly on Thursday evenings from 5.30pm-7.30pm in either the Millennium Wing Studio at the Gallery or online.
•    13 October / Onsite / This will be an introductory workshop, introducing you to each other and the Gallery
•    20 October / Online /  A second introduction workshop showcasing resources and creative careers available to you
•    27 October / Onsite /  A '(Re)Write the Rules' workshop where we start to shape your Youth Panel
•    3 November / Onsite /  A workshop to plan out a launch event for your panel
•    10 November / Online /  We'll further develop your ideas for the panel and prepare for your launch event
•    17 November / Online / A workshop preparing for your launch event
•    24 November / Onsite / You launch your Youth Panel with a public event! 
•    1 December / Onsite / Final workshop for 2022, reflecting on the process so far and thinking ahead to 2023
Outside of meetings, you might be required to independently work on tasks, such as research or social media content. Additional meetings can be planned if panel members feel it is necessary.
How can you get involved?
Young people from diverse backgrounds, locations, and communities are encouraged to apply to join the Youth Panel! You do not need any particular skills or experiences to join, just an interest and enthusiasm for shaping programmes for young people.
Interested? Tell us about yourself in any media you like. You can write us a letter, make a video, draw a comic strip, or apply however you feel most comfortable expressing yourself. Please include answers to the questions below in your submission.
If you would like to respond through video or audio clips, please keep these to between 2 and 5 minutes in length. Anyone who would like to submit drawings, poetry, or similar artworks, provide a maximum of three examples.
You can submit these materials to the Apollo Fellow Oisín Kenny at

[email protected]

Applications close at 1pm on Thursday, 22 September. 
We are looking for a core group of people to set up the Youth Panel. If more people apply than we have places for, we will assess your application on the following criteria:
•    Interest and enthusiasm for shaping programmes for young people
•    Ability to commit to the workshop dates and times
•    Most importantly, we are looking for a mix of backgrounds to best represent young people in Ireland today, so when we are putting together the panel we will take this into account
We will let you know if you have been successful by Thursday 29 September. If you aren't selected for the initial group, you can choose to be kept informed of future opportunities as the Youth Panel develops. 
Questions
Name
Age
Pronouns
Email address
Phone number
Location
Tell us about yourself (for example your background, interests, education, work, training, hopes, dreams, favourite movie, TV show, song etc.)
Why do you want to join the Youth Panel?
What will you bring to the Youth Panel?
Can you commit to attending weekly Thursday evening meetings on the dates listed above?
How did you find out about the Youth Panel? (Social Media/ Our website/ Community group or Youth Club / Friends, families or colleagues/ Other - please specify)
If you would like further information, please contact Apollo Fellow Oisín Kenny at [email protected].