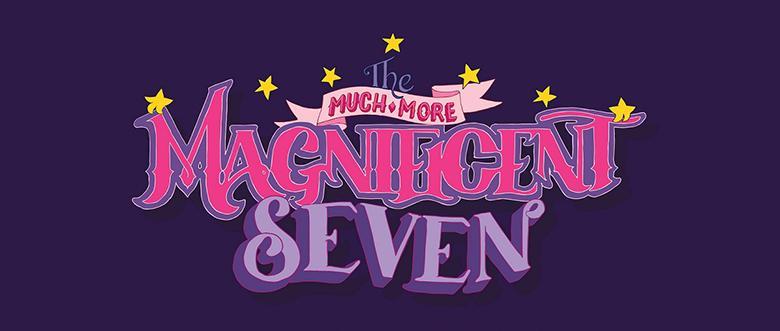 The Much More Magnificent Seven
6 December 2018 – 6 January 2019 | Millennium Wing Studio
A special display of photography and illustration documenting a collaborative project between the Gallery, LauraLynn Children's Hospice and the Abbey Theatre
For several years, the Gallery's Education Department has been proud to work with LauraLynn Children's Hospice, facilitating sensory, arts-based workshops for their attendees.
LauraLynn is Ireland's only children's hospice, and provides palliative care to children with life-limiting conditions and their families across Ireland. Their holistic approach provides support to the whole family, allowing patients to be children and parents to be mums and dads.
On 25 May 2018, seven magnificent LauraLynn children were the stars of a full, wheelchair-centred original production in the Abbey Theatre. This was a unique opportunity for the children to perform on the Abbey stage. It was a truly collaborative project, with wheelchair design by the National Gallery of Ireland and music performed by the National Concert Hall and Kids' Classics. Working with the children and their families, storyteller Paul Timoney devised a magical story that was wholly inspired by the children's lives.
The resulting performance was an unforgettable occasion for everyone in attendance that day and, with this display, we hope that Gallery visitors will also experience some of that magic.
Listen to storyteller Paul Timoney read the magical story of The Much More Magnificent Seven (below), or download the story here (PDF).
The Much More Magnificent Seven are:
Nira Bouzid, Erika Cawley, Conor Flynn, Jack Harmes, Aisling Moloney, Natalie Maria Racovita and Evan Swayne
This display is in memory of Conor Flynn, who passed away earlier this year.
With special thanks to Paul Timoney, The Abbey Theatre, The National Concert Hall, Kids' Classics, DesignWorks, illustrator Holly Pereira, Antti Viitala and Boys + Girls, Saddington Baynes and all of the families and staff of LauraLynn.
Project coordinator: Brina Casey, Education Offier Community and Access, National Gallery of Ireland