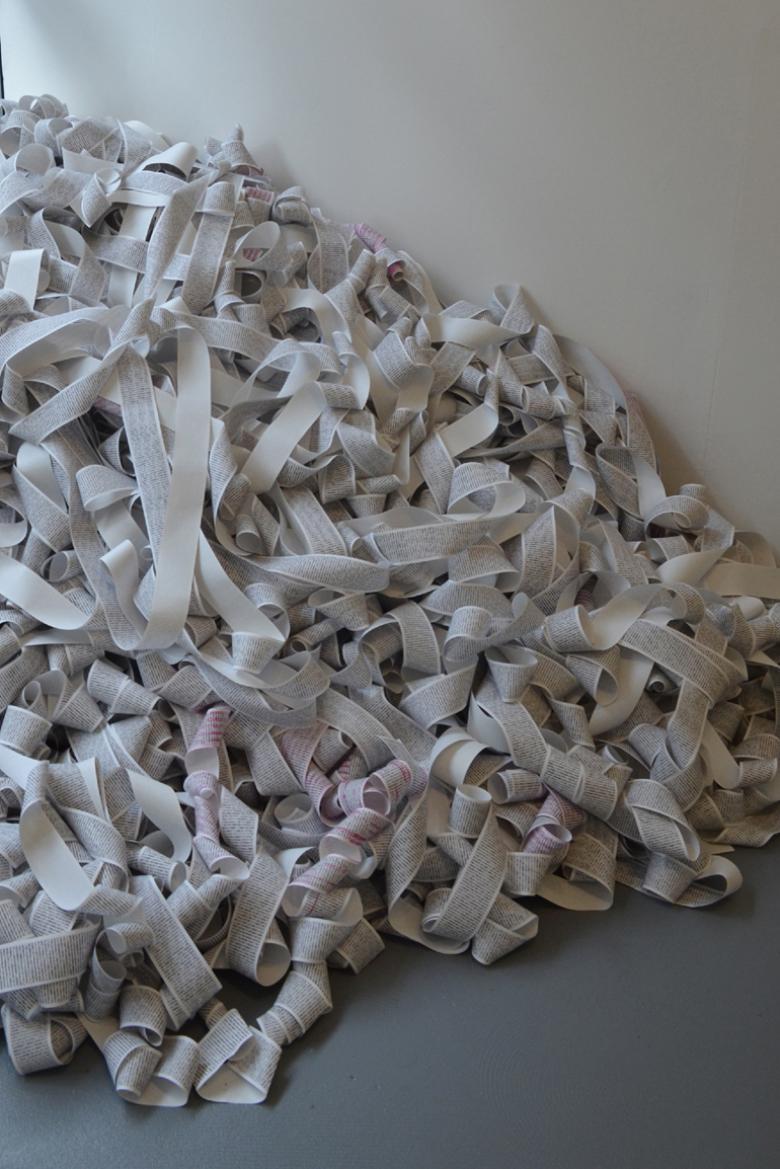 Tom O'Dea (b.1985), 'Self Portrait', 2017. © the artist. Photo © National Gallery of Ireland.
Credit
Tom O'Dea
Self Portrait SNP, 2017
Decoded genetic information comprised of complete Single Nucleotide Pair differences from the reference human genome on thermal printer paper, approx. 80 x 80 x 100 cm
"How do we know who we are? Self-portraiture has always been a way of trying to generate some form of self-understanding. But what happens when we become involved in constant acts of self-representation? Datafied bodies, numerical representations and self-trackers are increasingly becoming the primary sites for engagement with the self. From data-based representations of our social networks to fitness and health trackers, each numerical representation is a portrait of some aspect of the self. Increasingly these representations are becoming the primary way for understanding the self – altering that which we are – from understanding our bodies to measuring our social interactions. Self Portrait SNP is a way to try and come to terms with what it means to be represented by numbers, to exist within a technoscientific framework that is outside of our individual control. It is an attempt to understand how we think differently about something when we think of it as a set of data points, a set of numbers. The portrait is comprised of my decoded single nucleotide polymorphisms (SNP), different from the standard human reference genome. It is my physical self, represented as different from the human reference standard."
Tom O'Dea (b.1985) is an artist and art practice researcher in the Orthogonal Methods Group at CONNECT in Trinity College Dublin. His work is focussed on examining the political and philosophical implications of techno-scientific practices. In particular his recent work is concerned with the increasing prevalence of representational systems as the primary site of engagement for our interactions with and in the world. He has a degree in Engineering from UCD, a masters in Digital Media from the Huston Film School and is currently undertaking a visual art practice-based PhD in CONNECT, TCD.