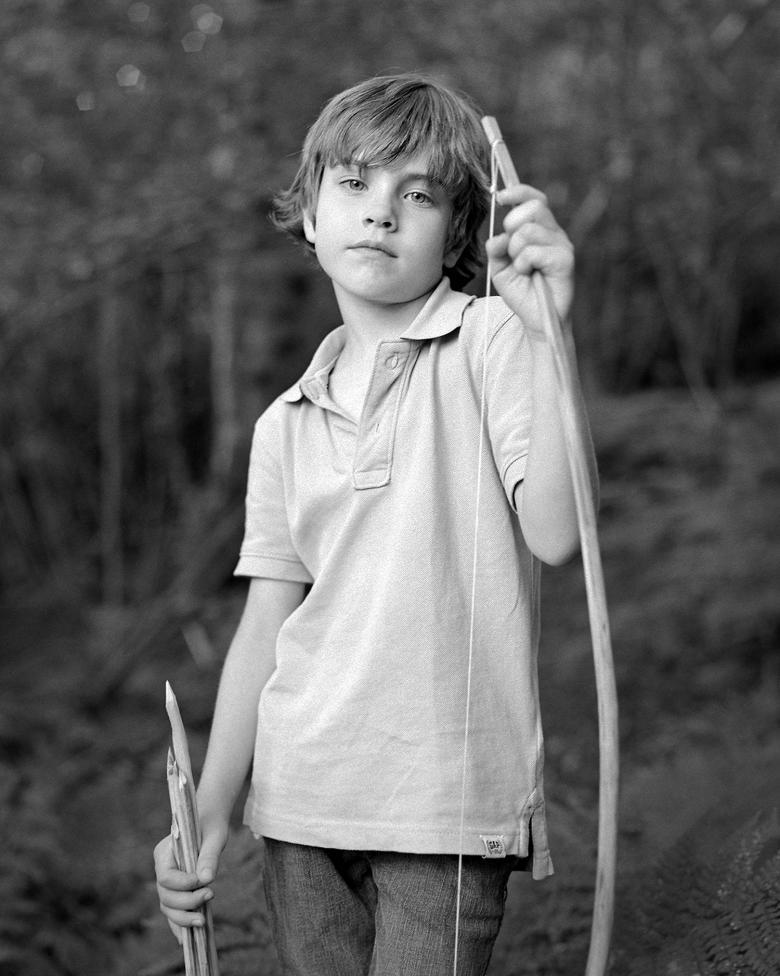 Thomas Jenner (b. 1972), Henry Peter Jenner With Bow and Arrows, 2018. © Thomas Jenner.

Credit
Thomas Jenner
Henry Peter Jenner with Bow and Arrows, 2018
Archival pigment print, 52 x 44 cm
"The portrait of my son Henry is intended to appear as though it has been distilled from the era of pictorialist photographer Julia Margaret Cameron. This romantic sensibility is signified by the hand-crafted bow and arrows, twilight woodland setting, and alabaster skin tones, which allude to the mystical appearance of a neo-classical figurative sculpture. The photograph is metaphorically both light and dark, and there is a palpable tension between the innocence of the young boy and his penetrating gaze. I shot Henry's portrait on black-and-white film using a medium format camera hand-held at the widest aperture of the lens. This achieves a very shallow depth of field, which evokes the apparent capturing of a slice of time, whilst implying temporality and the physical impossibility of ever being able to grasp a fleeting moment. As Henry holds on to the bow it looks as though he is reaching out of his reality, like a ghost, through the spatial plane of the photograph and into the viewer's dimension. This has a subtly disconcerting effect and as your eyes flick back and forth between that hand and the pointed tips of his arrows, you become aware of his eyes always on you."

Thomas Jenner, who graduated with a BA (Hons) and MDes from Edinburgh College of Art, lives and works in Dublin. In his photographic practice, he investigates notions of identity and place. His work has featured in group exhibitions at, among other venues, the RHA (2017, 2016, 2014, 2011), Galerie Weissraum, Kyoto, Japan (2007), Collins Gallery, Glasgow (1999), and the Royal Scottish Academy (1998), where Jenner was awarded the Sally Schofield Prize for Photography. His solo shows include RE-ARM, a series of surreal and ecological art installations produced in association with the Tree Council of Ireland and with the support of local authorities and Coillte (2009, 2006, 2005, 2004), Sharjah Art Museum, UAE (2000), Traverse Theatre Gallery, Edinburgh (1999), and ECA International Festival Exhibitions, Edinburgh (1998).