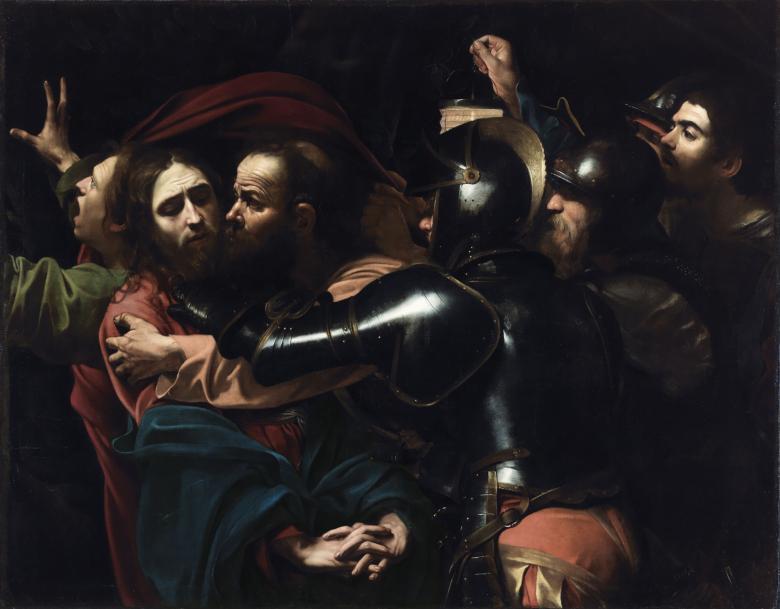 Michelangelo Merisi da Caravaggio (1571-1610), 'The Taking of Christ', 1602. On indefinite loan to the National Gallery of Ireland from the Jesuit Community, Leeson St., Dublin who acknowledge the kind generosity of the late Dr. Marie Lea-Wilson, 1992. Photo © National Gallery of Ireland.
Credit
The Taking of Christ by Michelangelo Merisi da Caravaggio
| | |
| --- | --- |
| Year | 1602 |
| Size | 133.5 x 169.5 cm |
| Medium | Oil on canvas, |
| Number | L.14702 |
Caravaggio painted this extraordinary work for the Roman Marquis Ciriaco Mattei in 1602. Offering a new visual approach to the biblical story, Caravaggio placed the figures close to the picture plane and used a strong light-and-dark contrast, giving the scene an extraordinary sense of drama. Judas has identified Christ with a kiss, as the temple guards move in to seize Him. Thought to be lost for many years, the painting was rediscovered at the Jesuit House on Leeson Street, Dublin, in 1987.