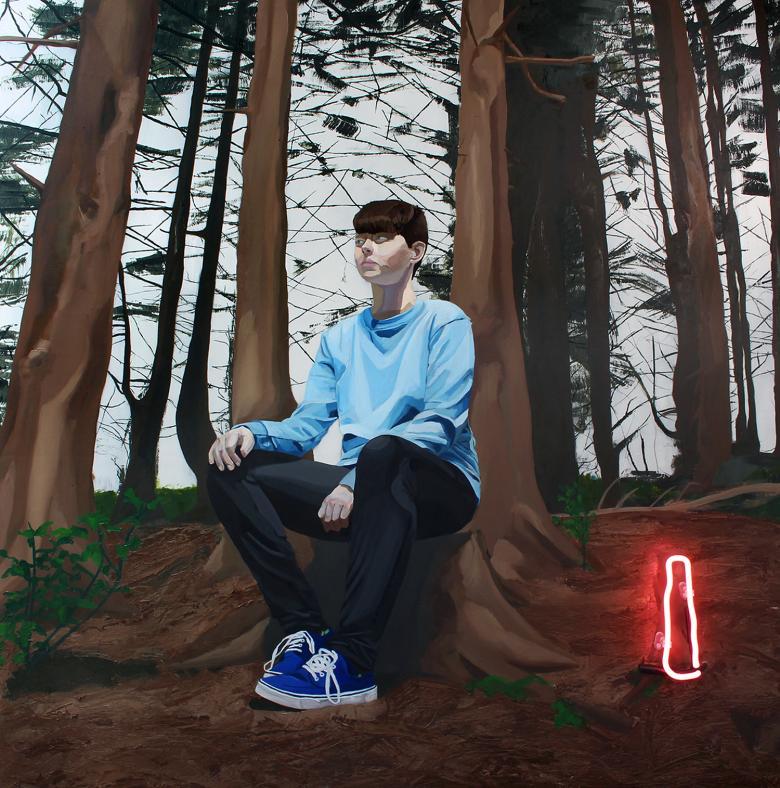 Stephen Doyle (b. 1994), Dylan is ainm dom…, 2018. © Stephen Doyle.

Credit
Stephen Doyle
Dylan is ainm dom…, 2018
Mixed media on board (oil and neon glass), 120 x 120 cm
"This portrait depicts a young man who happens to be transgender. It explores contemporary concerns with self-identity in modern Ireland. To date the representation of any LGBTQ+ culture has been repressed and hidden, yet as Irish society moves toward a more inclusive future, we are expanding on what it means to be Irish. We are starting to see gender beyond what is simply assigned to us at birth. Individuals like Dylan are at the forefront of an important era in our history. This portrait is not only a declaration of self-identity, but is also about national identity.
The setting is a park near Dylan's home in Lucan, Co. Dublin. The familiar landscape gives the sitter an immediate connection to his heritage. The medium of oil paint extends this sense of tradition, while the use of bold neon implies an 'otherness'. It holds the shape of the natural landscape yet is set apart. This juxtaposition is not unlike how queer culture has developed outside wider society. It has its own language and customs but is still woven into the fabric of our society. The acknowledgement and embrace of minorities is necessary in the pursuit of a more equal Ireland and progression as a society."
Stephen Doyle is a Cork-based artist and graduate of Crawford College of Art and Design (2017). Doyle's work references queer identity and queer culture through painting and installation. For his graduate show, he received the Student of the Year Award which included a solo exhibition, 'Alt Masc' in the Lavit Gallery and a residency at Backwater Studios. Since graduating last year he has been shortlisted for various international awards including the UK Emerald Winter Pride Art Award and a recipient of the Sunny Art Prize and the overall winner of the Ashurst Emerging Artist Prize.