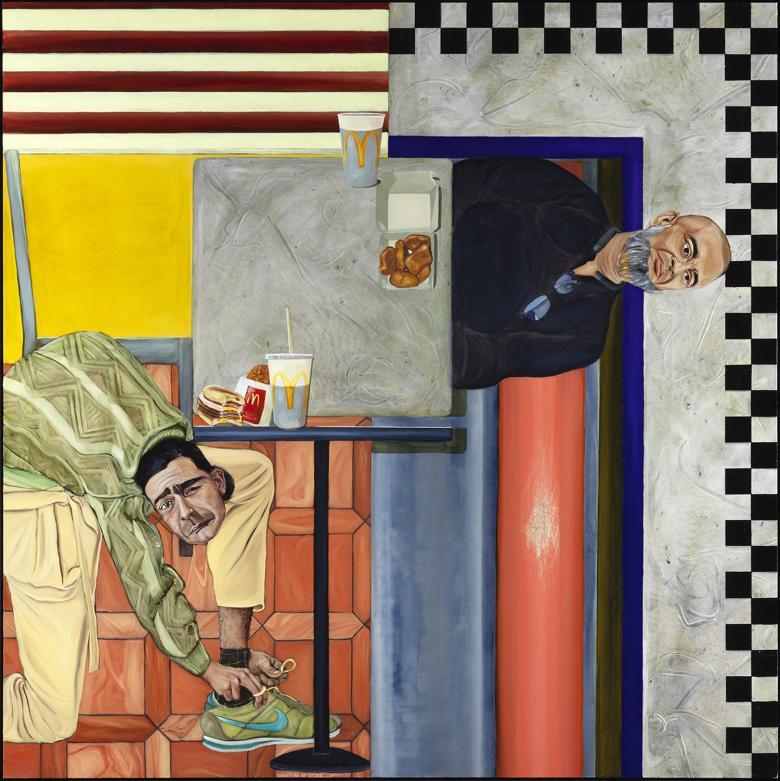 Salvatore Fullam (b. 1994), Me and my Dad in McDonalds, 2018. © Salvatore Fullam. Photo © National Gallery of Ireland.

Credit
Salvatore of Lucan
Me and my Dad in McDonalds, 2018
Oil on cotton canvas, 150 x 150 cm
"The painting Me and my Dad in McDonalds is a representation of my first ever meeting with my father, earlier this year, in New York. When painting a double-portrait, the distance between two people becomes very important. The distance between myself and my father: the difference between absence and thin air. We struggled to talk. Our lives are so different. He, who had been an illegal immigrant for over half his life, leaving Bangladesh and going from country to country until finally ending up in America. I, known as one of the best painters from Lucan, Co. Dublin, and firmly rooted there for my whole life, more or less. I think this painting is as accurate a representation as I could have made of our first encounter. However, there is one bit of fiction – we never actually went to McDonald's – but it felt appropriate to set it there. It's about the only place I can imagine us ever coexisting."

Salvatore of Lucan is from Lucan. He is of mixed-race: half Bangladeshi and half Irish. He was raised by his mother, a single parent who lives with her mother, and his younger sister. He mainly makes work about his own life; often figurative domestic scenes. He always wants to represent himself as accurately as possible. Throughout his life, he has been asked where he is from, and has always replied 'Lucan'. This is why he has recently decided to call himself Salvatore of Lucan instead of Salvatore Fullam.