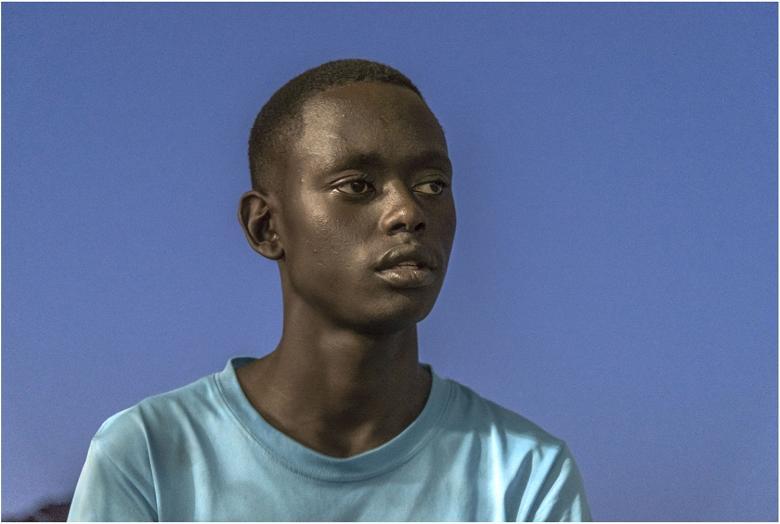 Robert Ellis (b. 1984), Herbert, 2017. © Robert Ellis.

Credit
Robert Ellis
Herbert, 2017
Archival pigment print, 46 x 67 cm
"This portrait is one of four of Herbert in the series 'Proverbs'. This series is a long-term multimedia project, which involves recorded audio alongside still and moving images. As a body of work it emerged in response to the writing of Ngũgĩ wa Thiong'o, a Nobel Prize nominated author, who describes the African landscape as being 'blanketed in a European memory of place'. The series contemplates the connection between landscape and memory, meditating on these age-old proverbs in the context of the contemporary landscape. In this portrait Herbert is eighteen years old. The others were taken when he was fifteen, seventeen and nineteen. These portraits form an integral element of time and change within the series.
Wandering through this unfamiliar landscape, the images linger on the people and its landforms. Fluid in approach, there are neither fixed stories to tell, nor conclusive outcomes to communicate. Instead, an overarching narrative considers how place is experienced, in terms of its aesthetic values, and the layers of memory and history that it holds."

Robert Ellis is a visual artist and lecturer who completed his MFA in Photography from the University of Ulster in Belfast (2011), having previously graduated with a BA Hons Degree in Photography from Dublin Institute of Photography (2007). Recent solo exhibitions include Belfast Exposed Gallery, Peckham 24 as part of Photo London, and The Library Project in Temple Bar. His work features in several public collections, including the Northern Ireland Arts Council. In 2014 he was invited as an emerging European photographer to participate in Plat(t)form at the Fotomuseum Winterthur, Switzerland. He is currently a photography lecturer at Griffith College and the National College of Art and Design in Dublin.