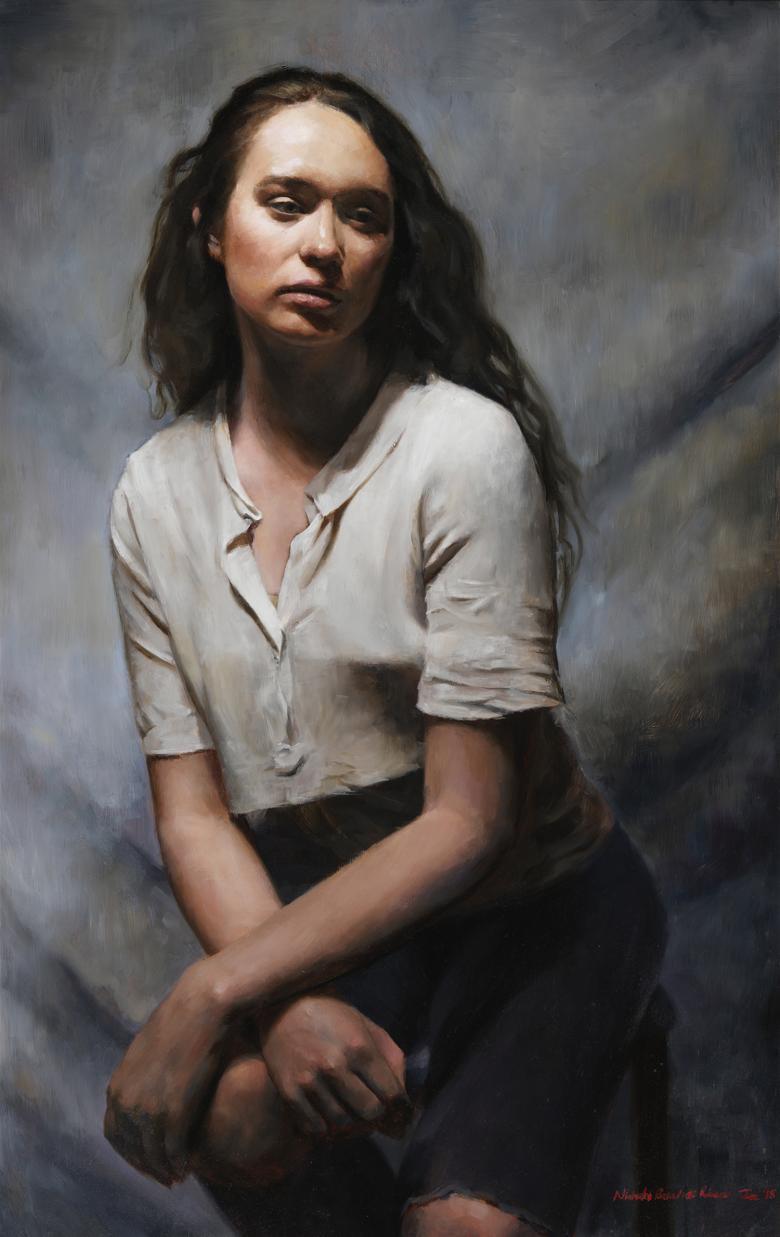 Nicholas Benedict Robinson (b. 1974), Mary-Kate Lanigan, 2018. © Nicholas Benedict Robinson. Photo © National Gallery of Ireland.

Credit
Nicholas Benedict Robinson
Mary-Kate Lanigan, 2018
Oil on birchwood, 94 x 60cm
"I contacted Kilkenny model Mary-Kate Lanigan to ask her to pose for me after I saw an article mentioning her in the Irish Independent. She very kindly agreed and the collaboration produced a charcoal drawing and this oil portrait. Visually I wanted to create simple black and white masses in the choice of background, the clothing, and Mary-Kate's features. In London I had seen an Ilya Repin portrait called Portrait of Baroness Varvara Ikskul von Hildenbandt, which had a long bookmark-shaped frame with a similar white background and simple masses of colour. The composition and style in this Repin portrait prompted my approach to this painting. The portrait is almost life-size. I hope that working as close to life-size as possible adds to any sense of presence the painting may have. I tried to convey the natural gentleness I felt was apparent in her expression, gesture and her face itself. In my experience having a good model can really make the work and I was extremely fortunate in this case to find someone both so professional and good-natured to pose for me."
Nicholas Benedict Robinson is currently teaching figurative painting and drawing from life in various venues around the country. This allows him to paint and draw in his studio in Wicklow, his home county. He has exhibited in, among other recent group shows in Ireland, the RUA and RHA annual exhibitions, and was selected for the Royal Society of Portrait Painters show in London. Nicholas trained in drawing and painting from life in Sweden under Joakim Ericsson after graduating from NCAD and Crawford College of Art and Design.