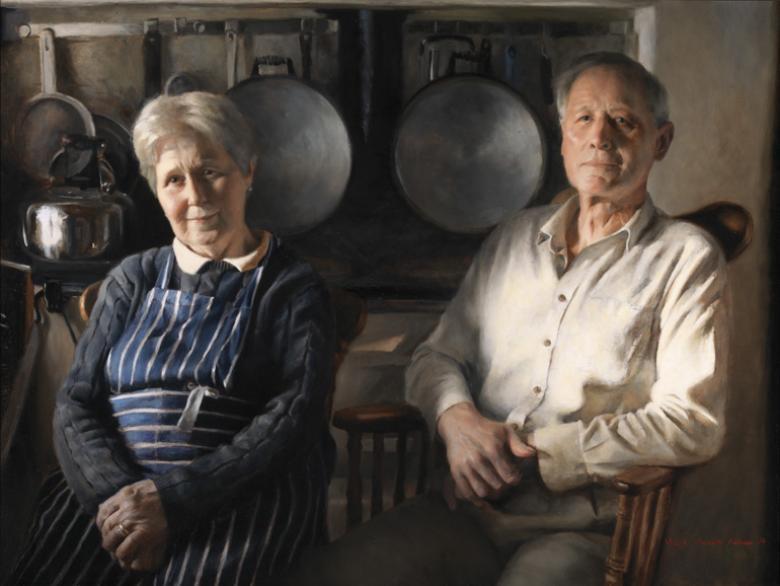 Nicholas Benedict Robinson (b.1974), 'Drishcoora - Maeve & Keith Robinson', 2017. © the artist. Photo © National Gallery of Ireland.


Credit
Nicholas Benedict Robinson
Drishcoora – Maeve and Keith Robinson, 2017
Oil on birchwood, 120 x 90 cm 
"This is a portrait of my parents, Maeve and Keith. The location is the kitchen of their home in Co. Wicklow where I grew up. I wanted to paint a double portrait so I asked my parents to pose. Beforehand I looked at portraits by Otto Dix and Vincent Brown. Brown said he painted what he knew, which I wanted to do as well. My parents had jobs and careers which mattered to people but, for me, this domestic setting is what I know of them. It helped me to describe my own understanding of them. I made it close to life-size in keeping with the principles of painting from life taught to me. I also wanted to make one figure more prominent, something I
noticed in the paintings at the Rembrandt 'Late Works' show. But I tried to unify the composition with the light, the rhythms of the features, and background objects like the two cooker lids. I like to see other Irish artists who paint from life and how this connects to them personally. I find painting subjects I know in this way is affirming for me and I hope it might be for others too."
Nicholas Benedict Robinson (b.1974) is a graduate of the Crawford College of Art and Design, and completed post-graduate studies in NCAD in 2009. He was introduced subsequently to the American atelier system by the Irish painter Gearóid Hayes. He has worked and studied in the Florence Academy of Art in Sweden, under the tutelage of the Swedish painter Joakim Ericsson, where he received two drawing awards. He returned to Ireland in 2013 and has exhibited at the RUA and RHA annual exhibitions, as well as in various group shows in Dublin galleries. Robinson paints in his studio in Wicklow and teaches in various institutions nationally.