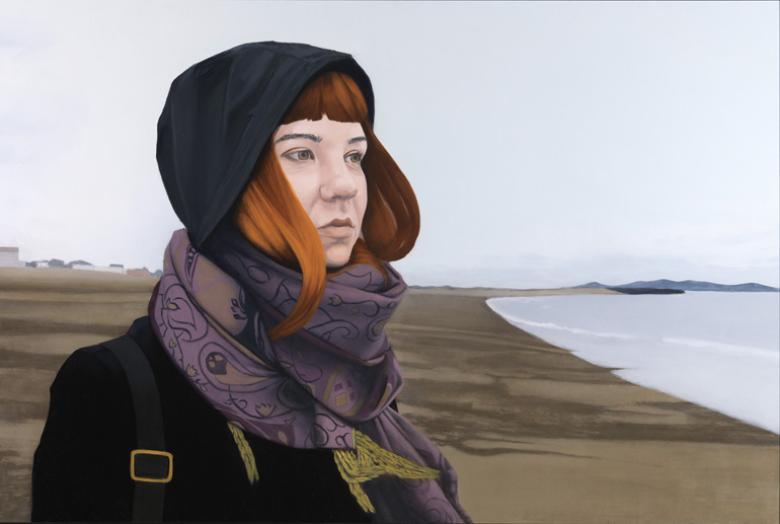 Ivan Matancevic (b.1988), 'Natasa', 2017. © the artist. Photo © National Gallery of Ireland.
Credit
Ivan Matancevic
Natasa, 2016
Oil on canvas, 90 x 120 cm
"The girl in the painting is my girlfriend Natasa at the beach in Bray, only a few months after moving to Ireland. With many thoughts passing through our minds, we decided to take a break and travel to Bray with a couple of friends. She was standing there, looking at the open sea lost in her own thoughts, which I thought presented a perfect portrayal of how we felt at the time and it is why this portrait had to be painted. I used studied and calm brush strokes to get an insight into the psychological character of the model. The horizontal composition is outlined by the sea line which captures a peaceful moment in the surroundings. The face of the model is pensive which gives compatibility between the portrait and its surroundings."
Ivan Matancevic (b.1988) attended the Academy of Arts in Osijek, Croatia, where he received a Masters in Fine Art. He received the Academy of Arts Award for Painting in 2013 and the Award for Multimedia in 2013. He has exhibited at various exhibitions in Croatia including Galerija Prica, Samobor and Art is fact (Dorf) Slavko Kopač Vinkovci in 2014 and Kulturni centar Novog Sada, Novi Sad in 2013. In 2016 he exhibited at Motley, the MART Members Exhibition in Rathmines, Dublin.