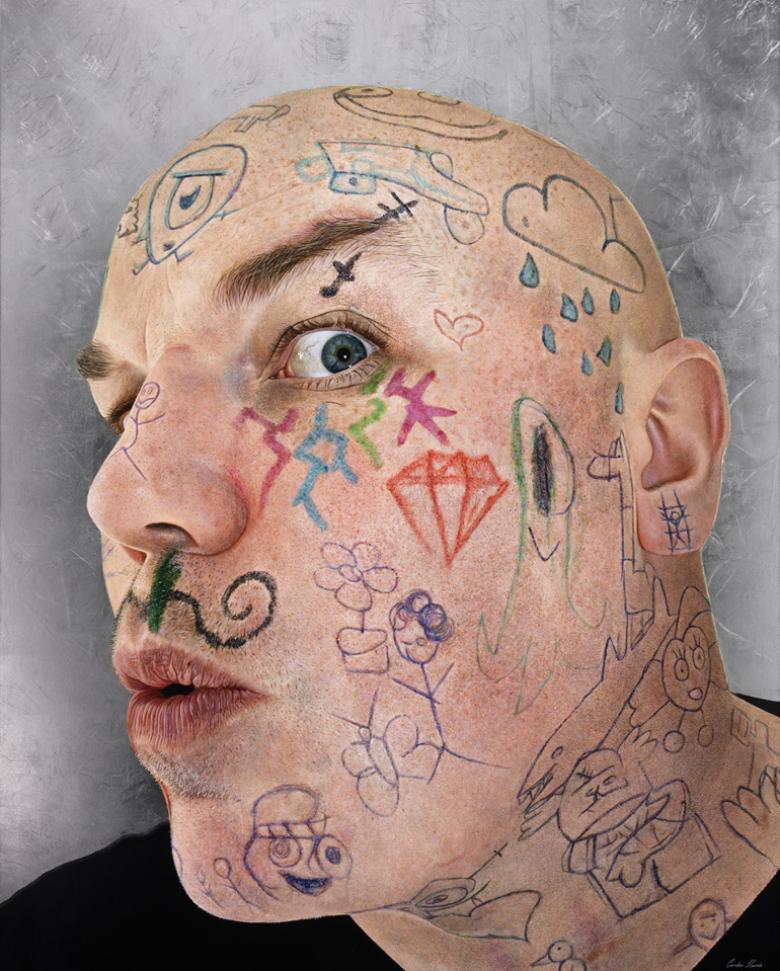 Gordon Harris (b.1977), 'Kids' Canvas', 2017. © the artist. Photo © National Gallery of Ireland.
Credit
Gordon Harris
Kids' Canvas, 2017
Oil on panel, 150 x 120 cm
"I mainly use the medium oil on board with gold and silver leaf which I feel adds movement and shifts with the intensity of light. I have a meticulous eye for detail. I like to infuse a harmony between the natural and conceptual to create works that are provocative and dramatic. I like to render my subjects to a timeless matter. I have adapted an old medium to the scrutiny of a new world. My painting Kids' Canvas was created with help from my three daughters. I let them run riot on my head with pens and permanent markers. Children's drawings are always honest and unrehearsed. You can almost decipher from each character drawing which child it came from and their individual personality and humorous outlook on life. As Picasso once said: 'Every child is an artist, the problem is how to remain an artist once we grow up'. Creativity takes courage. If I could say it in words there would be no reason to paint."
Gordon Harris (b.1977) is an Irish artist living and working in Connemara. He is widely known for the high-realism of his figurative work.