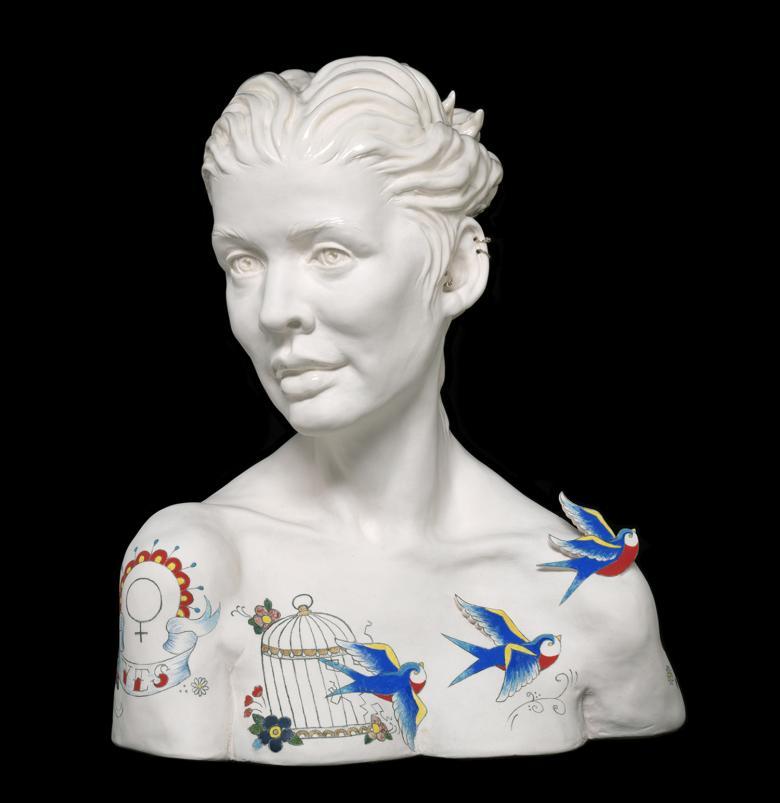 Gill Morrow, (b. 1974), YES, 2018. © Gill Morrow. Photo © National Gallery of Ireland.

Credit
Gill Morrow
YES, 2018
Porcelain, 38 x 34x 20 cm
"YES is a porcelain self-portrait enjoying the mood of the country following the momentous referendum of 25 May 2018. I wished to reflect a solidarity with the positive liberal shift that is so evident in the Republic. The traditional body art expresses a narrative inspired by Mary Robinson and Dublin's Lady Justice.
Its sister piece NO, which is scheduled to appear at the Royal Ulster Academy exhibition, contrasts the strength of YES and portrays the atmosphere of conservative patriarchy in Ulster."

Gill Morrow is a self-taught artist from Belfast, who graduated from QUB with a degree in Genetics. She creates portraiture in porcelain or oils/mixed media and illustrative works in graphite, pen and water colours. Gill has worked in set design in upstate New York, shown paintings in the Emer Gallery and Fenderesky Gallery at the Crescent Arts Centre, Belfast, and exhibited with the Arts Society of Ulster. She has also given live demonstrations at the Drumalig Studios, Co. Down in 2016 and 2017. She has been selected for the Royal Ulster Academy annual exhibition in 2016, 2017, 2018.