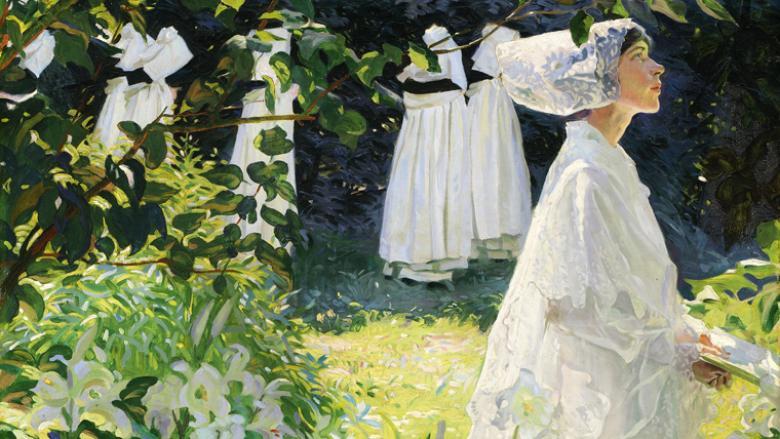 William John Leech (1881-1968), 'A Convent Garden, Brittany' (detail). Photo © National Gallery of Ireland.
Credit
'A Convent Garden, Brittany' by William John Leech
| | |
| --- | --- |
| Year | c.1913 |
| Size | 132 x 106 cm |
| Medium | Oil on canvas |
| Provenance | Presented, Mrs M. Botterell, 1952 |
| Number | NGI.1245 |
The link between art and well-being is widely acknowledged. Artworks contribute to our sense of optimism and hope and, in doing so, can strengthen and expand our sense of what is possible.
This painting by Leech is charged with optimism and positivity. It represents, in part, a celebration of the artist's recent marriage to his wife Elizabeth. The intensity of the sunlight, beautiful lilies, and the purity suggested by Elizabeth's ceremonial bridal costume, all contribute to this positive atmosphere.
Text by Shane Morrissy, Education Assistant, 2017.
Read the National Gallery of Ireland's curatorial text about the work here.