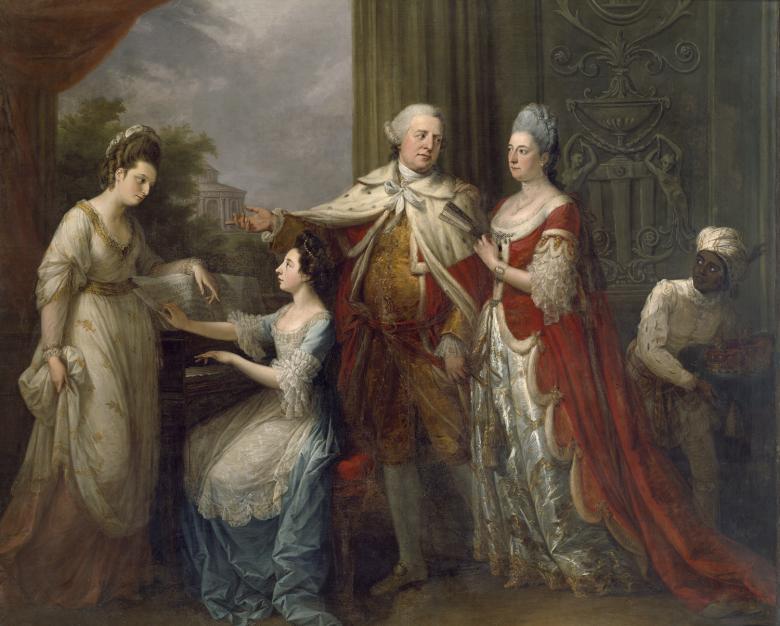 © National Gallery of Ireland.

Credit
The Ely Family by Angelica Kauffman (1741-1807)
| | |
| --- | --- |
| Year | 1771 |
| Size | 243 x 287 cm |
| Medium | Oil on canvas |
| Provenance | Presented, 4th Marquess of Ely, 1878 |
| Number | NGI.200 |
Angelica Kauffman achieved remarkable success for a woman painter of her period. Under the patronage of Joshua Reynolds she became one of the leading artists in England, renowned for her allegorical subjects as well as her society portraits. She visited Ireland briefly during 1771, where she received numerous commissions, and one of the families she stayed with was that of the Earl of Ely at Rathfarnham Castle, for whom she painted this large family portrait. 
The 1st Earl of Ely and his wife stand in the centre of this impressive group portrait, begun at Rathfarnham Palace and completed in the artist's London studio. The two young women on the left are nieces to the couple. Frances Monroe is seated at the harpsichord playing an aria from 'La Buona Figliuola' by Niccolo Piccini, a popular hit in Dublin at the time. Dolly Monroe stands before her in pseudo-classical costume designed to give the sense of an allegorical figure. At the right, a young Indian page in Oriental dress carries a cushion with two coronets, symbolising the title the Earl had just received.