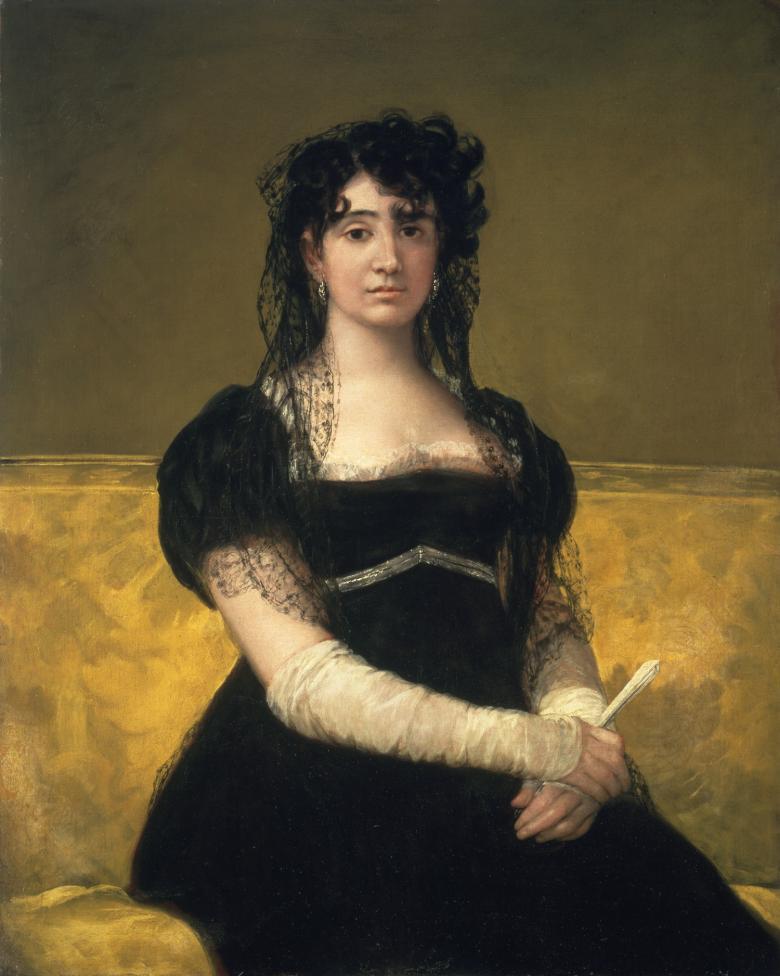 Francisco José de Goya y Lucientes (1746-1828), 'Portrait of Doña Antonia Zárate', c.1805. © National Gallery of Ireland.
Credit
Doña Antonia Zárate by Francisco José de Goya y Lucientes
| | |
| --- | --- |
| Year | 1805 |
| Size | 103.5 x 82 cm |
| Medium | Oil on canvas |
| Provenance | Presented, Sir Alfred and Lady Beit, 1987 (Beit Collection) |
| Number | NGI.4539 |
Antonia, a famous Spanish actress, is shown wearing a black dress and an intricately painted black lace mantilla. Her dark figure stands out in stark contrast to the shimmering gold sofa that she sits on, a prop from Goya's studio. Her arms are covered with pale silk mitts and she holds a fleco (fan) in her hands. Her gaze is slightly melancholic, while a pinch of irony appears in her smile. Following an extended period of illness in Cadiz in 1792-3, Goya became deaf. He returned to Madrid, and was court painter to Charles IV around the time that he painted this portrait.