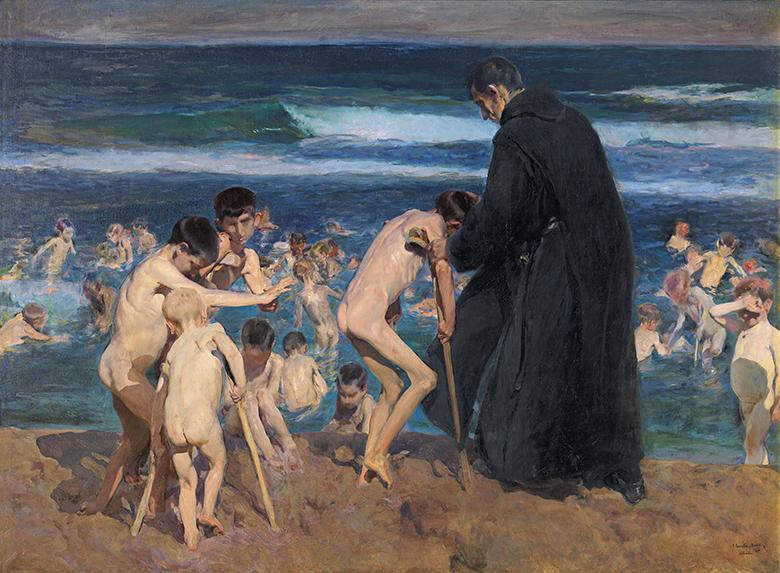 Joaquín Sorolla y Bastida (1863-1923), Sad Inheritance!, 1899. Colección Fundación Bancaja
Credit
Sorolla: Spanish Master of Light focuses on the life and work of Joaquín Sorolla (1863–1923), who is often referred to as Spain's Impressionist. 
The exhibition—the first in Ireland—comes to Dublin following its acclaimed run at the National Gallery, London, and features over fifty works spanning Sorolla's prolific career. Here, we focus on a poignant highlight of the exhibition called Sad Inheritance!, on loan from Colección Fundación Bancaja.
Painted on a monumental scale in 1899, Sad Inheritance! is considered one of the most powerful and enduring images that Sorolla ever made. Depicting a moment that the artist witnessed personally on Valencia's Malvarrosa beach, the scene shows a group of disabled children bathing naked, as was customary, assisted by a robed Brother of Saint John of God, here a figure of Christian charity.
The title implies that the children's disabilities were attributable to their parents' sexually transmitted diseases or alcoholism, conditions which were viewed as moral failings at the time. It is now believed, however, that they were victims of a polio epidemic. Though the work won a coveted Grand Prix in Paris in 1900, placing the artist firmly in the international spotlight, Sorolla said that he 'suffered terribly' when he painted it, and determined 'never to paint a subject like that again'.
Sorolla: Spanish Master of Light was on view 10 August - 3 November 2019.