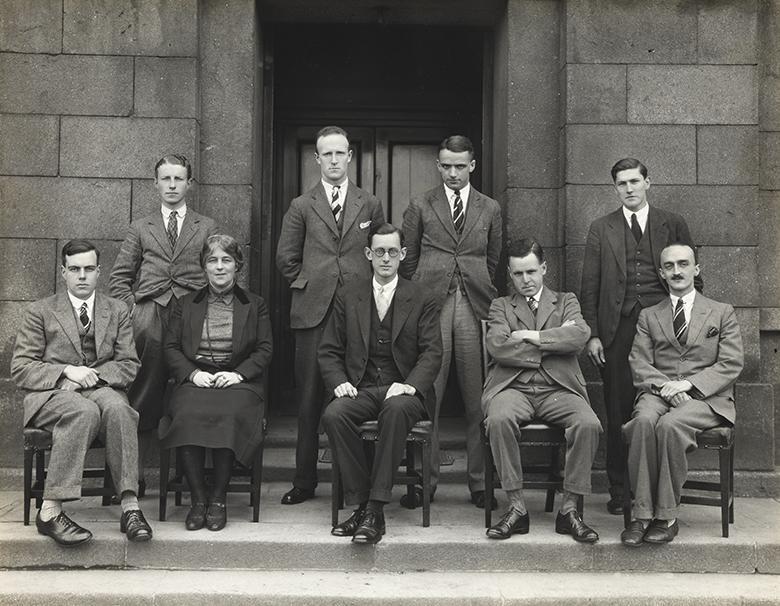 Group photograph depicting Dr Marie Lea-Wilson (1887–1971) outside Harcourt Street, c.1929. Photograph courtesy of The Royal College of Physicians of Ireland.
Credit
Caravaggio's The Taking of Christ depicts the events of Holy Thursday. However, the painting's journey to the walls of the Gallery is also connected to Easter, 1916.
Dr Marie Lea-Wilson's life was turned upside down in 1920, when her husband, a Royal Irish Constabulary officer, was assassinated in Gorey, Co. Wexford, in retribution for his mishandling of prisoners after the 1916 Rising. An extremely devout woman, she is reported to have purchased the painting (that we now know as Caravaggio's The Taking of Christ) in Scotland, in 1924, as a source of comfort. At that point, the painting was still incorrectly attributed to a Dutch artist called Gerrit van Honthorst (1592–1656).
Dr Lea-Wilson went on to train as a doctor at Trinity College, Dublin, where she graduated in 1928, one of only three women in the class. She became a noted pediatrician at the Children's Hospital, Harcourt Street. The photograph above, from the Royal College of Physicians of Ireland, shows Dr Lea-Wilson on Harcourt Street circa 1929. Described as somewhat stern, she attended Mass daily before work and was devoted to her four dachshunds.
In April 2016, archival material belonging to Dr Lea-Wilson came to light, which included a receipt, for £20, for the restoration of the painting's frame by the furniture restorer James Hicks in Dublin. This document establishes that she had brought the painting to Dublin by 1924. James Hicks (1886–1936), of 5 Lower Pembroke Street, Dublin, was a well-known furniture maker, mainly of popular eighteenth-century pastiches.
Dr Lea-Wilson forged a strong connection with the Dublin Jesuit community, receiving great spiritual support from Father Tom Finlay at the Jesuit House on Leeson Street, which may explain her subsequent gift of the painting to them in the 1930s.
As Father Noel Barber SJ said, it is "a strange thread of events" that led to this magnificent painting finding its place on the wall of the National Gallery of Ireland.