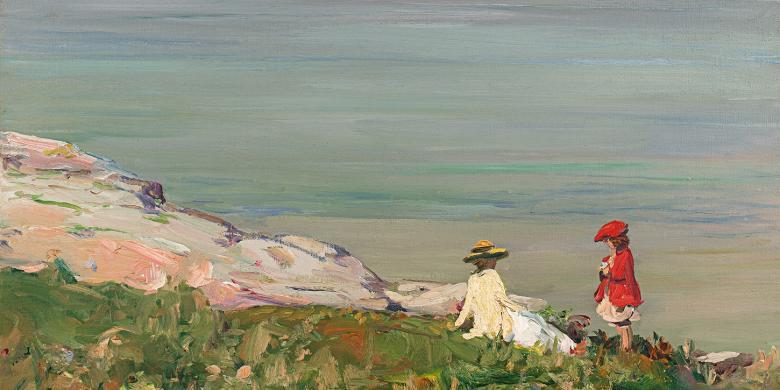 John Lavery, On the Cliffs - detail. Copyright Richard Green Gallery.
Credit
7 October 2023 - 14 January 2024 
Rooms 6 -10, Beit Wing | Ticketed 
This exhibition is the highlight of the Gallery's autumn programme, opening on 7 October. It's organised by the National Gallery of Ireland, Dublin, in collaboration with National Museums NI and National Galleries of Scotland. 
Sir John Lavery was an internationally renowned Irish painter at the turn of the 20th century, and the only Irishman to receive the Freedom of both Dublin and Belfast in the inter-war period, in a divided Ireland. This major exhibition will focus on the artist's impressions of the people and locations that he encountered during a life filled with travel, allowing visitors to take a fresh look at the work of this highly respected painter.
Lavery never travelled for business or pleasure without his painting kit, and this exhibition will explore some of the key destinations depicted in his art, from Scotland to Palm Springs. Paintings such as The Bridge at Grez have become the essential images of their times. The Gallery's recently acquired A Garden in France (1898) is a highlight of the show. There are also studies from Switzerland, Spain, Ireland and Italy, and depictions of cities from Glasgow to London, Venice, Cannes and New York. Such was the richness and variety of Lavery's work that Winston Churchill was led to conclude that his artistic mentor, was a 'plein-airiste if ever there was one'.
Curator: Professor Kenneth McConkey & Dr Brendan Rooney
Book an exhibition ticket
You need to book a ticket for Lavery. On Location. Tickets can be booked in person at the Gallery, over the phone or online. See opening hours and contact details below.
The following discounts and special offers are available:
Contact us:
Email: [email protected]
Phone: (01) 663 3513
The exhibition desk is available at the following times: Mondays 11am–5pm; Tuesday–Saturday 9.15am–5pm; and Sunday 11am–5pm.
From 1 September 2023, the rate of VAT applied to admissions to museums, art galleries and exhibitions increased from 9% to 13.5%. Because of this, ticket prices for our upcoming exhibition Lavery. On Location have increased. The average ticket price increase is 4%. We have maintained free entry tickets for children (18 and under), refugees and carers. There is also free entry to the exhibition for all on Wednesday mornings between 9.30-11.30. We have also maintained €5 tickets for all on Thursday evenings after 5pm. Discounts are available for tickets booked online, as well as for those over 65s, students and individuals who are unwaged. All ticket information is available on our website. Lavery. On Location is the only exhibition at the Gallery this autumn/winter with an admission fee. During this time, seven free exhibitions will run at the Gallery.
This exhibition is proudly supported by Arthur Cox LLP, Exhibition Partner.
An exhibition organised by the National Gallery of Ireland, Dublin, in collaboration with National Museums NI and National Galleries of Scotland.
The Gallery would like to thank the Department of Tourism, Culture, Arts, Gaeltacht, Sport and Media for their ongoing support.