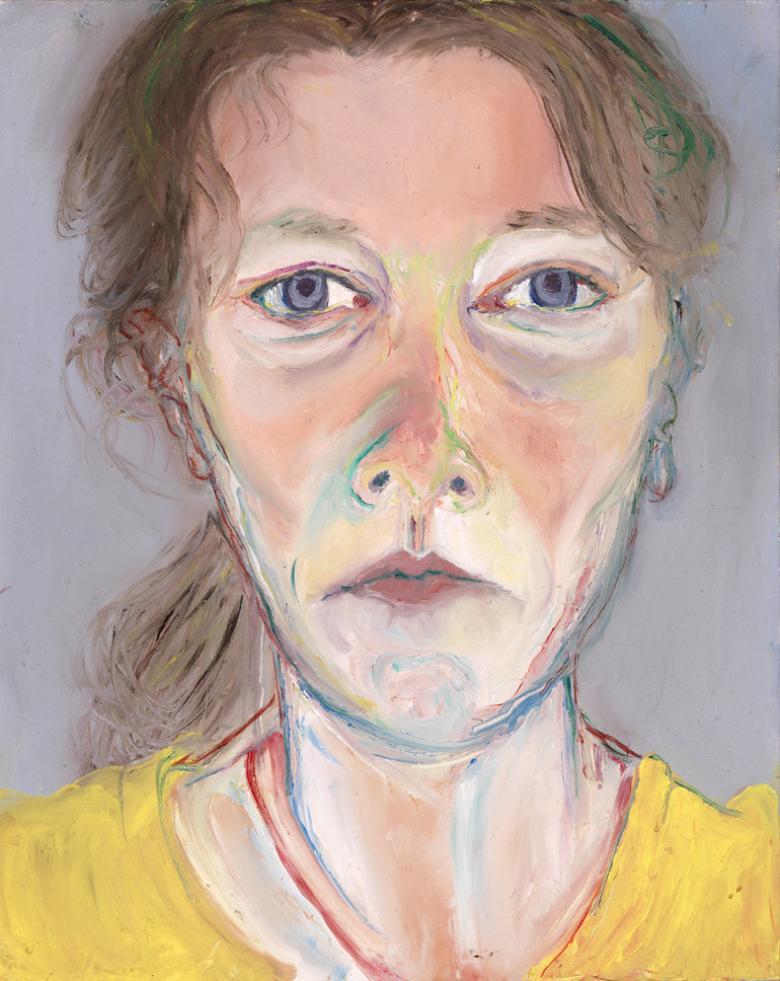 Aileen Conroy (b.1978), 'Aileen Johanna. Self Portrait (mirror reflection)', 2017. © the artist. Photo © National Gallery of Ireland.
Credit
Aileen Conroy
Aileen Johanna. Self Portrait (mirror reflection), 2017
Oil on canvas, 50 x 40 cm
"For this self-portrait, I stared at my mirror reflection for a day and a half during my residency in the Centre for Creative Arts and Media. I decided to become my own 'sitter' or 'subject' as it felt more authentic and required my entire concentration so there is the sense of participation leading to authenticity and rawness. The 'staring' element took an emotional and physical toll on me as I was locked in this introspective mode 'forcing' a sometimes confrontational 'conversation' with myself for a day and a half. My reflection changed throughout the process due to my emotional and physical state as well as the changing light and atmosphere and social interaction throughout the day. All of these elements influenced the end result. The self-portrait genre has been a constant in my work, and I view it as being very important because there is an inherent honesty and integrity to it. Observational work, sketching myself and ordinary people in ordinary situations, is very important to me as is 
taking photographs and translating them to oils on canvas. I consider myself a figurative artist and see my work to date as a self-portrait as my own thoughts and feelings are often projected onto the people I portray."
From Durrow, Co. Laois, Aileen Conroy (b.1978) graduated from the Centre for Creative Arts and Media, GMIT, with an honours degree in Fine Art in 2012. Although she predominantly works in paint, she credits drawing, photography and printmaking as important elements in her practice. She has exhibited at the RDS Student Art Awards in 2012 and at Tulca in 2014. In 2017 Aileen was selected to take part in the artist residency programme at GMIT, Galway.