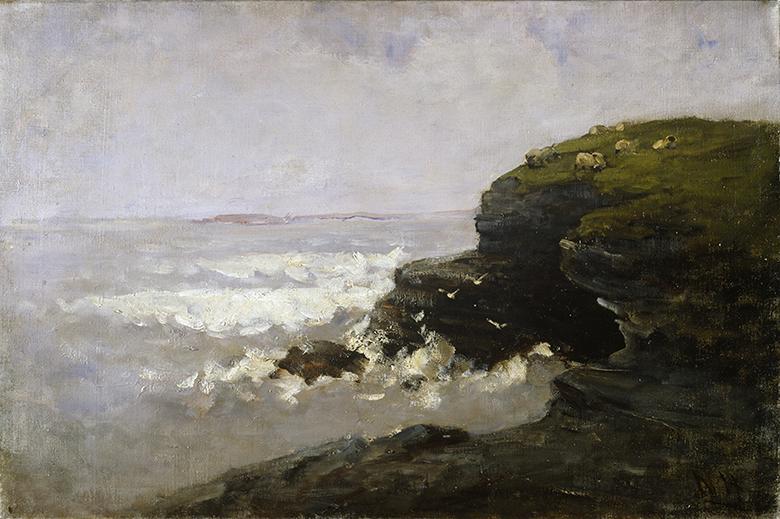 Nathaniel Hone the Younger (1831-1917), View of the Coast, County Clare. Photo © National Gallery of Ireland
Credit
Teachers' CPD Course: Learning Without Walls
Location

Russborough House and Parklands, Blessington, Co. Wicklow

Admission
Learning without walls: Creative pedagogy for 21st-century teaching and learning in the natural environment
This short course will explore the theory and practice of teaching and learning creatively across the curriculum using arts-based pedagogies and nature as a stimulus to exploring our natural landscape. Following a successful project at Clandeboye Estate involving Brian Poots of the Northern Ireland Forest Schools Association, Lady Dufferin coined the term 'Learning without walls' to describe an approach to education where children and young people enjoy learning in the natural environment.
Participants will discuss the skills of creativity, critical thinking, collaboration and communication, which underpin all learning and teaching in a rapidly changing century. The course will cover how these skills can foster students' well-being through spending time outdoors experiencing and enjoying learning through nature. 
The first half of the course will introduce teachers, and others with an interest in this area, to compelling educational arguments about developing students' creative and critical faculties, sharing practical advice on how to achieve this in educational contexts. The second half will involve participants experiencing a series of outdoor creative activities such as den building, which can be used to encourage students to engage with nature and the environment around them on a regular basis. 
Organised in partnership with Russborough, Trinity College and the National Gallery of Ireland. The course complements the Gallery's current exhibition Shaping Ireland: Landscapes in Irish Art.
Details
Venue: Russborough House and Parklands, Blessington, Co. Wicklow
Cost: €35 (includes a sandwich lunch and tea/coffee). 
Email [email protected] to book your place
Dress: Comfortable clothing and footwear suitable for the outdoors is recommended  
About the presenters
Professor Carmel O'Sullivan is the director of the Arts Education Research Group in Trinity College, and a Trustee of the Alfred Beit Foundation. She is an internationally renowned speaker on education, with particular expertise in the areas of creativity, arts education, and inclusive education.
Brian Poots is Director of the Northern Ireland Forest Schools Association and founder of the first Forest School Academy in Northern Ireland.