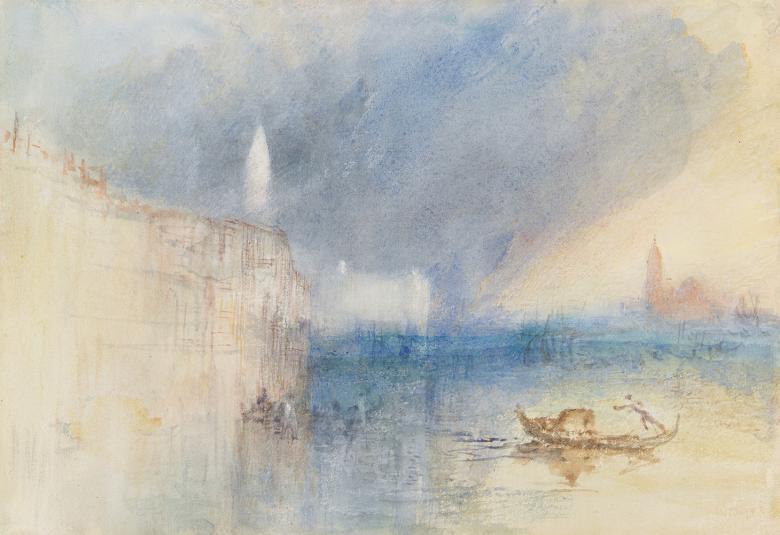 Joseph Mallord William Turner (1775-1851), Storm at the Mouth of the Grand Canal, Venice, c.1840. Image National Gallery of Ireland
Credit
Talk and Tea: J.M.W. Turner's Artistic Legacy
Location

Millennium Wing Studio

Admission
Join the co-curator of Turner: The Sun is God, Niamh MacNally, for this special in-person talk.
The painter J.M.W Turner (1775 -1851) is considered one of the most innovative painters of his age. He vigorously experimented compositionally and stylistically, both in oils and watercolour, and his work continues to have an influence on artists to this day. As part of the programme that complements the exhibition Turner: The Sun is God, exhibition co-Curator, Niamh MacNally, will speak about Turner's work and artistic legacy.
Our Tuesday 'Talk and Tea' series features informal discussion about an aspect of the collection or an exhibition. A short, illustrated talk is followed by conversation with the audience – and tea (or coffee) of course!
This event is presented on the occasion of our exhibition Turner: The Sun is God and our annual display of Turner's watercolours.
Friends of the Gallery, children and carers see the exhibition for free
Turner: The Sun is God is organised in cooperation with Tate.
The exhibition is proudly supported by Grant Thornton, Exhibition Partner.
The Gallery would like to thank the Department of Tourism, Culture, Arts, Gaeltacht, Sport and Media for their ongoing support.