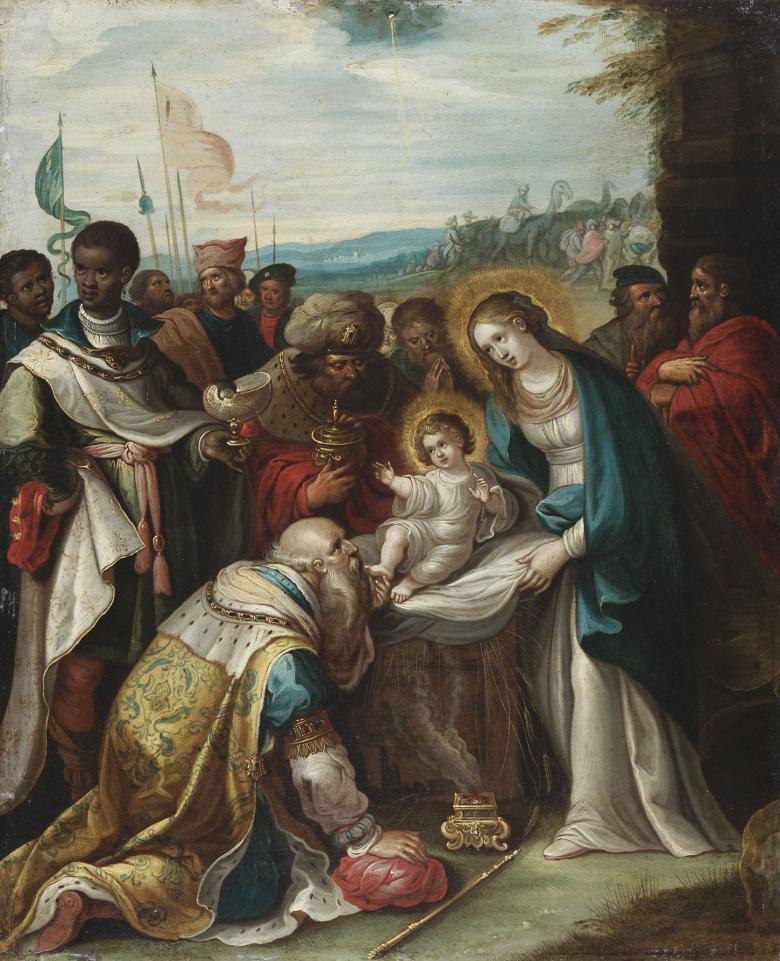 Frans Francken II (1581-1642), The Adoration of the Magi, c.1615. Image © National Gallery of Ireland
Credit
Online Talk: The Black Magus in the Adoration of the Magi - Power and Magnificence
Location

Online (via ZOOM)

Admission

Full price: €10

Discounts available for students, over 65s, and members of the Friends.

Booking closes an hour before the event is scheduled to begin.
How heavy is the head that bears the crown?
Art and cultural historian Michael Ohajuru presents an exciting talk on the image of the Black Magus during the Epiphany. This event will offer an in-depth look at this flamboyant figure's presence in classical art up to modern day, challenging preconceived notions of power, and bridge past with present to reimagine new ways forward.
There will be a opportunity, through questions and answers, to further explore this subject's rich art history as well as Ohajuru's work on the topic.
Please note: this is an online event via ZOOM. A link will be sent via email to all ticketholders before the event. Booking closes an hour before the event is scheduled to begin. This talk will not be recorded.
This event is part of a programme of event for Boring Art? - the first exhibition of the Gallery's collection curated by young people, for young people. The seven Apollo Project Young Curators bring a fresh perspective to works that to some, at first glance, might appear 'boring'. The exhibition highlights issues important to young people in Ireland today, and celebrates their voices.
Michael I. Ohajuru is Senior Fellow of the Institute of Commonwealth Studies. Blogs, writes and speaks regularly on the Black presence in Renaissance Europe. Has spoken at the National Gallery, Tate Britain, British Library, National Archives and the Victoria Albert Museum.  Featured in TV programs on BBC, ITV and Channel 5. Founder of Image of the Black in London Galleries a series of gallery tours, the Project Director and Chief Evangelist of The John Blanke Project: an Art and Archive project celebrating John Blanke the Black trumpeter to courts of Henry VII and Henry VIII, co-convener of the Institute of Commonwealth Studies What's Happening in Black British History series of workshops and founder member of the Black Presence in British Portraiture network.