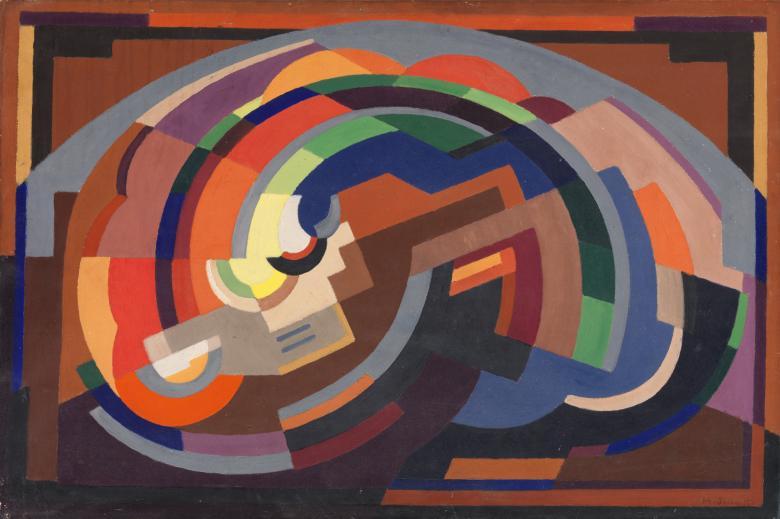 Mainie Jellett (1897-1944), 'A composition', 1930s. © National Gallery of Ireland

Credit
Online Art Appreciation Course: Rebel Artists
Location

Online via ZOOM

Admission

Tickets: €150 per course

20% discount for Friends of the Gallery
10% discount for over 65s/unwaged/students
Special offer until 11 January: 10% discount when all three courses booked together.
20th-century Irish women artists 
Our 8-week evening courses are the perfect way to learn more about art. Discover little-known works from the Gallery's collection, get to know old favourites in more depth, and explore other great collections of the world with our expert art historians and guest speakers.
Course dates:
Tuesdays, 6pm–7.15pm
Course runs from 29 March to 17 May 2022
Classes held on: March (29), April (5, 12, 19, 26), May (3, 10, 17)
Course topic:
The early 20th century was a time of great change in Ireland, from the 1916 Rising to the formation of the Free State, to the declaration of the Republic. This escape from the colonial past was, in ways, mirrored at the time by the women's liberation movement, where a break from constrictive gendered traditions was enacted. Interestingly, this spirit of rebellion was simultaneously expressed in the overturning of the rules and traditions in Western art.
This course will examine the fascinating intersection of these three historically significant breaks with the past by looking at the art created by women artists in Ireland and abroad during the period 1910–1970, including Estella Solomons, Mainie Jellett, Evie Hone, Mary Swanzy and Eileen Gray. Invited experts will also contribute to the course, and further details will be available closer to the time. 
Course format:
Each class takes place online using ZOOM webinar and includes time for questions and answers.
Each session will be recorded and made available to participants for one week afterwards to allow you to catch up, or watch again.
Each class will be closed captioned live.
Tickets:
€150 per course
Become a member today and enjoy 20% off the course fee, and many other exclusive benefits
10% discount for over 65s/unwaged/students
Special offer until 11 January 2022: further 10% discount when all three courses are booked together
About the tutor:
Jessica Fahy is a freelance art historian and is on the lecturer and guide panels for the National Gallery of Ireland, the Hugh Lane Gallery and UCD School of Access and Lifelong Learning. Jessica gives both private and public talks and tours across Ireland, abroad, and online, covering all areas of Western art from the 14th century to the present day. She has a MLitt in Art History from UCD where she also received her undergraduate degree with English as her joint major. She completed her MA in Italian Renaissance Art at the Courtauld Institute of Art in London in 2007.
Other courses in the series:
More online courses and events: