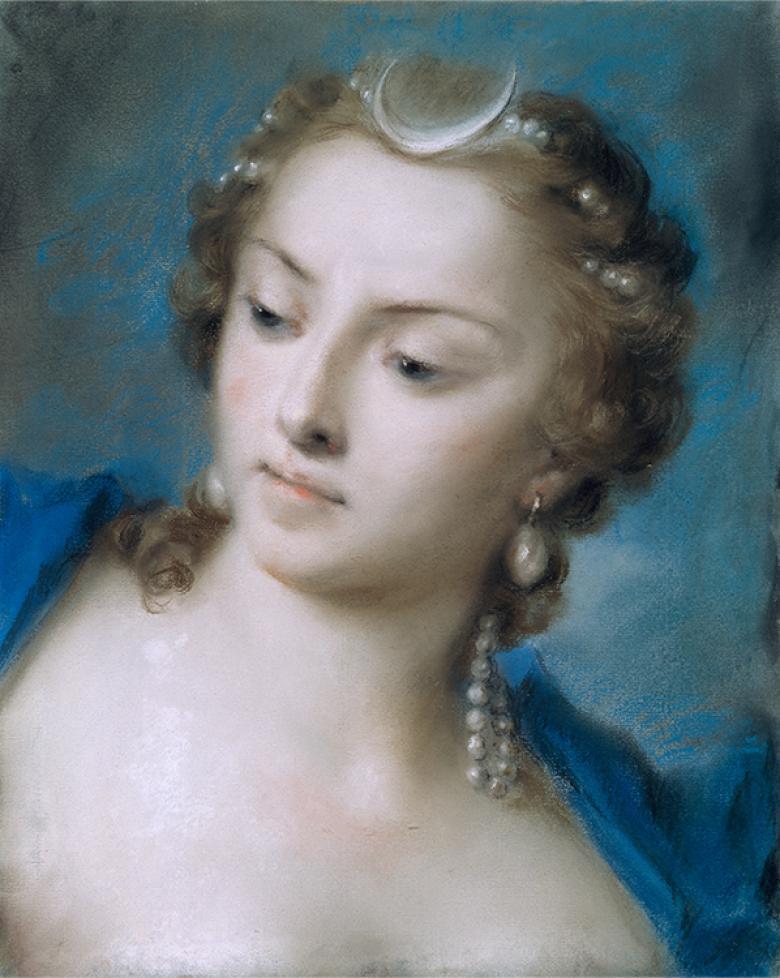 Rosalba Carriera (1675-1757), Diana, c.1740. NGI.3844. Photo © National Gallery of Ireland.
Credit
Online Art Appreciation Course: Great Women Artists from the Renaissance to Romanticism
Location

Online via ZOOM

Admission

Tickets: €150 per course

20% discount for Friends of the Gallery
10% discount for over 65s/unwaged/students
Great Women Artists from the Renaissance to Romanticism 
Our 8-week evening courses are the perfect way to learn more about art. Discover little-known works from the Gallery's collection, get to know old favourites in more depth, and explore other great collections of the world with our expert art historians and guest speakers.
Course dates:
Tuesdays, 6pm–7.15pm
Course runs from 21 March to 16 May 2023
Classes held on: March (21, 28), April (4, 18, 25), May (2, 9, 16). Note there is a break on 11 April.
Course topic:
In her 1971 essay American art historian Linda Nochlin famously posed the question "Why Have There Been No Great Women Artists?". She noted that it was not due to a lack of talent but instead it was a result of a gendered society that did not provide women with access to education, training, or permission to compete in the art world. While this is accurate and certainly stopped many from following this path, in the fifty years since the discussion was begun more and more women artists have been rediscovered. Many of these artists had successful professional careers and yet were forgotten for centuries and just not included in the male dominated canon of Western art history. They came from different backgrounds, social classes, countries, and eras. They can be found to have worked in a variety of materials from carving fruit stones to painting large scale altarpieces. They were founders of academies, guild members, won artistic honours, had patrons that were at the highest levels of society from princes to popes and created extraordinary works of art.
Throughout this course we will examine the reasons that these women found a way to succeed and how much of an achievement it was to do so by placing them within their relevant historical context from the Renaissance to Romanticism. Some of the artists to be discussed in detail will be Sofonisba Anguissola, Artemisia Gentileschi, Judith Leyster, Clara Peeters, Angelica Kauffmann, Elisabeth Vigee-Le Brun and Anne Seymour Damer.  
Course format:
Each class takes place online using ZOOM webinar and includes time for questions and answers.
Each session will be recorded and made available to participants for two weeks afterwards to allow you to catch up or watch again.
Each class will be closed captioned live.
Tickets:
€150 per course
Become a member today and enjoy 20% off the course fee, and many other exclusive benefits
10% discount for over 65s/unwaged/students
About the tutor:
Jessica Fahy is a freelance art historian and is on the lecturer and guide panels for the National Gallery of Ireland, the Hugh Lane Gallery and UCD School of Access and Lifelong Learning. Jessica gives both private and public talks and tours across Ireland, abroad, and online, covering all areas of Western art from the 14th century to the present day. She has a MLitt in Art History from UCD where she also received her undergraduate degree with English as her joint major. She completed her MA in Italian Renaissance Art at the Courtauld Institute of Art in London in 2007.
Other courses in the series:
More online courses and events: