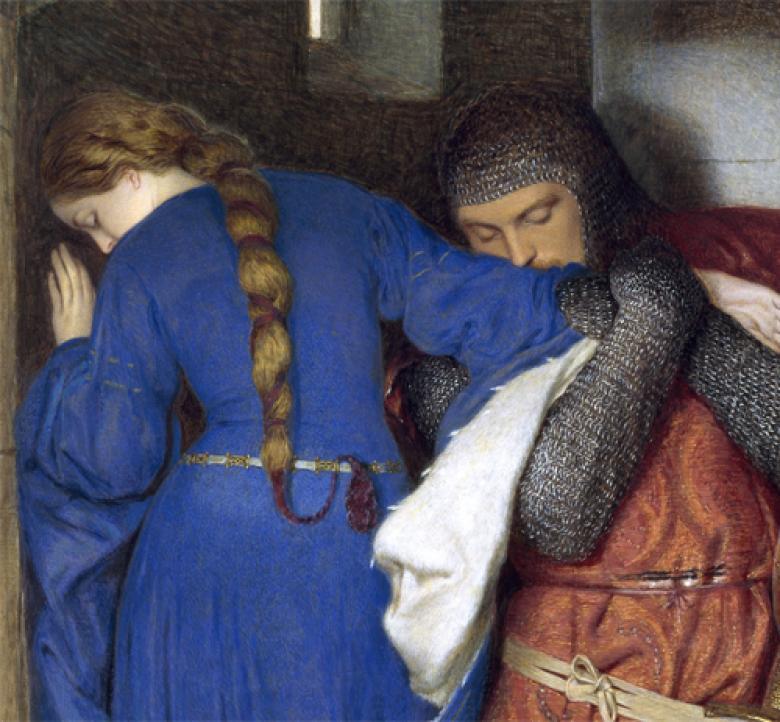 Frederic William Burton (1816-1900), Hellelil and Hildebrand, the Meeting on the Turret Stairs (detail), 1864. Photo © National Gallery of Ireland.
Credit
Online Art Appreciation Course: Artist, Writer, Image
Location

Online via ZOOM

Admission

Tickets: €150 per course

20% discount for Friends of the Gallery
10% discount for over 65s/unwaged/students
Special offer until 11 January: 10% discount when all three courses booked together.
Literary and artistic connections in the National Gallery of Ireland  
Our 8-week evening courses are the perfect way to learn more about art. Discover little-known works from the Gallery's collection, get to know old favourites in more depth, and explore other great collections of the world with our expert art historians and guest speakers.
Course dates:
Tuesdays, 6pm – 7.15pm
Course runs from 11 January to 1 March 2022 
Class held on: January (11, 18, 25), February (1, 8, 15, 22), March (1)
Course topic:
Connections between the literary and pictorial arts can be found throughout the National Gallery of Ireland's collections, whether through portraits of notable authors, the depiction of scenes from literature, drama and poetry, through artists' illustrations or even their own libraries.
In this course, we will delve into the Gallery's holdings to examine some of the myriad relationships between visual art and the written word, encompassing paintings, drawings, prints, and library collections. Moving from the eighteenth century to the present day, there will be a particular emphasis on Irish writers and artists.  
We will be joined by some guest speakers: Gallery curators Janet McLean and Niamh MacNally; artist Mandy O'Neill; author and historian Dan O'Brien; and Professor of James Joyce studies at UCD, Anne Fogarty.
Course format:
Each class takes place online using ZOOM webinar and includes time for questions and answers.
Each session will be recorded and made available to participants for one week afterwards to allow you to catch up, or watch again.
Each class will be closed captioned live.
Tickets:
€150 per course
Become a member today and enjoy 20% off the course fee, and many other exclusive benefits
10% discount for over 65s/unwaged/students
Special offer until 11 January 2022: further 10% discount when all three courses are booked together
About the tutor: 
Dr Kathryn Milligan is an art historian specialising in nineteenth- and twentieth-century Irish art. She is a graduate of UCD (BA) and TCD (MPhil, PhD). Following her PhD studies, Kathryn was the inaugural ESB Fellow at the ESB Centre for the Study of Irish Art at the National Gallery of Ireland, and an Irish Research Council Government of Ireland Postdoctoral Fellow in the School of Art History and Cultural Policy, UCD. Her first monograph, Painting Dublin, 1886–1949: Visualising a changing city, was published by Manchester University Press in 2020.
Other courses in the series:
More online courses and events: