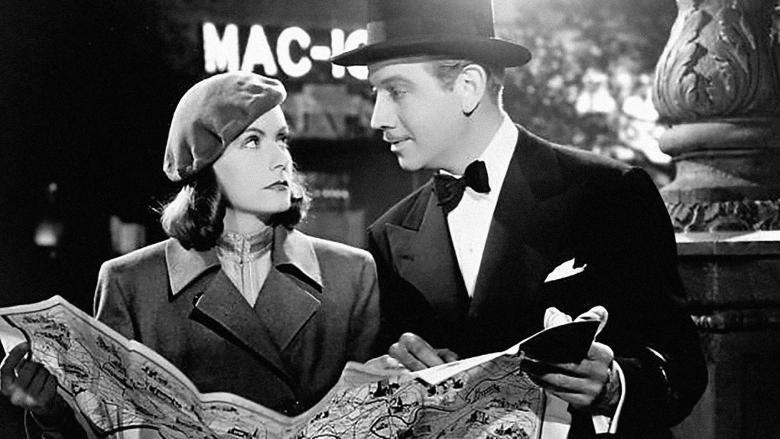 Film \ Ninotchka
Location

Lecture Theatre

Admission

Tickets cost €8
Discounts available for Friends of the Gallery
This spring, the Friends of the Gallery are pleased to present a trio of screenings under the theme of 'The Hollywood Narrative'. 
This series of film screenings will look at how Hollywood characterised American life through filmmaking. Each film in the series has been selected for its iconic visual style and powerful cinematography.
The first screening is Ninotchka (1939). 
Duration: 110 minutes / Certificate: CLUB
Director: Ernst Lubitsch / USA / 1939
Cast: Greta Garbo, Melvyn Douglas, Ina Claire
Garbo Talks! proclaimed ads when silent star Greta Garbo debuted in talkies. Nine years and 12 classic screen dramas later, the gifted movie legend was ready for another change.
Garbo Laughs! cheered the publicity for her first comedy, a frothy tale of a dour Russian envoy sublimating her womanhood for Soviet brotherhood until she falls for a suave Parisian man-about-town (Melvyn Douglas).
Working from a cleverly barbed script written in part by Billy Wilder, director Ernst Lubitsch knew better than anyone how to marry refinement with sublime wit. "At least twice a day the most dignified human being is ridiculous," he explained about his acclaimed Lubitsch Touch.
That's how we see Garbo's lovestruck Ninotchka: serenely dignified yet endearing ridiculous.
Screenings in association with Access Cinema.

Book here
This screening is part of a series of events presented in association with our exhibition Moment in Time: A Legacy of Photographs | Works from the Bank of America Collection. 
This exhibition is made possible through the Bank of America Art in our Communities® program.