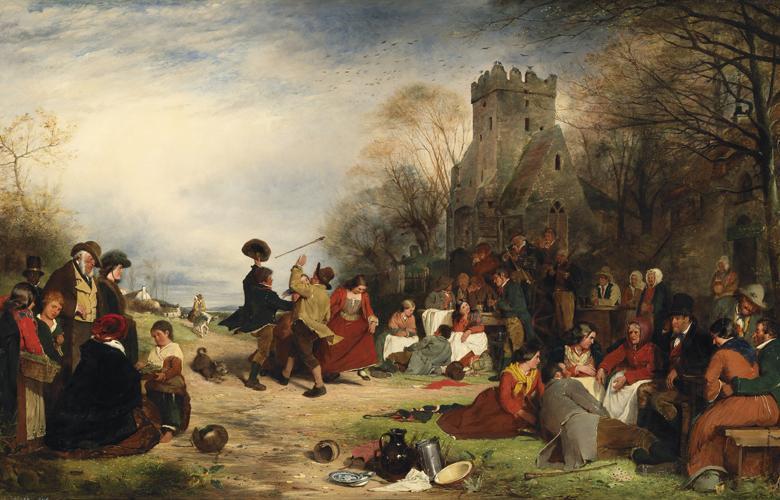 Detail from Erskine Nicol, 'The 16th, 17th (St Patrick's Day), and 18th March', 1856.Photo © National Gallery of Ireland
Credit
Caint Ar Líne: Caint agus Tae trí Ghaeilge: Íomhánna na nGael.
Location

Online (via ZOOM)

Admission

Tickets: €5 (€4.50 concession / €4 for Friends of the Gallery)
Bí linn le haghaidh caint speisialta chun Seachtain na Gaeilge 2021 a cheiliúradh.
Tabharfaidh Caomhán Mac Con Iomaire, Oifigeach Oideachais i nGailearaí Náisiúnta na hÉireann ina chuid cainte cur síos ar na saothair ealaíne a léiríonn na Gaeil i mbailiúchán an Ghailearaí Náisiúnta. Feictear muintir na hÉireann i go leor cineálacha pictiúr sa bhailiúcháin Náisiúnta, ó radhairc den ghnáth saol go portráidí. Féachfaidh an chaint seo ar rogha beag ach éagsúil de shaothair ealaíne a thaispeánann na Gaeil agus déanfar iniúchadh ar ábhair ar nós úsáid an greann, radhairc fháthchiallacha agus tábhacht chultúrtha na bpictiúr.
Mar gheall ar na srianta agus na treoracha do chruinnithe faoi láthair, beidh an ócáid ar fáil ar líne trí ZOOM. Seolfar sonraí cruinnithe ZOOM chuig daoine a cheannaigh ticéad maidin na hócáide. Beidh modhnóir i láthair ar líne, agus cuirfear seomra feithimh ar bun. Déan cinnte le do thoil go bhfuil do mhicreafón múchta nuair a ligtear isteach sa seisiúin thú.