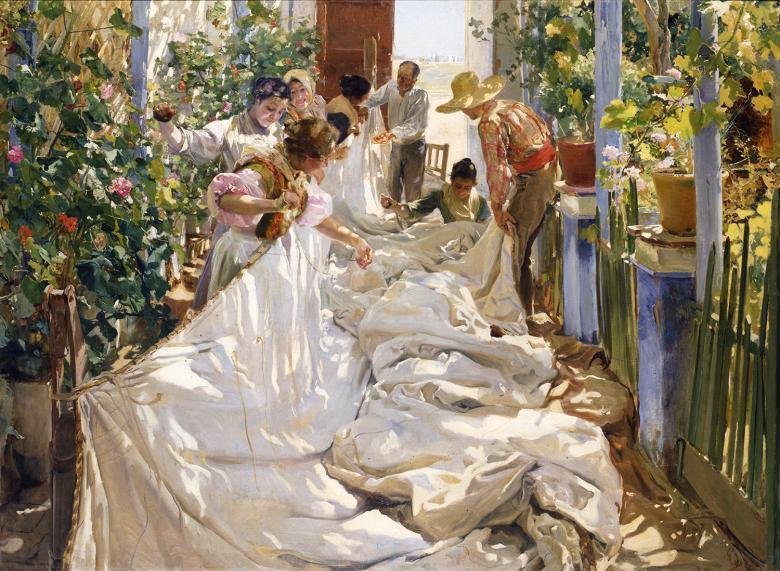 Joaquín Sorolla y Bastida (1863-1923), Sewing the Sail, 1896. 2019 © Photo Archive – Fondazione Musei Civici di Venezia

Credit
Art appreciation course \ The Art of Light
Location

No. 5 South Leinster Street

Admission
THIS COURSE IS NOW FULLY BOOKED
8-week course | 25 October to 13 December, 2pm - 3.15pm or 4pm - 5.15pm.
The 2pm class is organised by UCD Lifelong Learning. The 4pm class is organised by the Gallery's Education team
For centuries, light has been a key element in some of the most powerful and enigmatic works in the history of art. Light was used to establish narratives, manipulate compositions, and electrify atmospheres. Tantalising generations of artists, light moved beyond its function as a tool to become an allegory and subject in its own right.
Join art historian Dr Sarah Wilson for this eight-week thematic course exploring artistic efforts to capture and translate the effects of light. Participants will consider the motivations of artists who utilised light, and the effects of such experimentation on wider movements.
This course will cover a range of topics from Caravaggio's dramatically-lit compositions, to the central role of light in Impressionistic paintings, and Harry Clarke's ethereal stained glass windows. Each session will consist of a themed talk, followed by contextual visit to the galleries.
Course ticket includes admission to Sorolla: Spanish Master of Light.