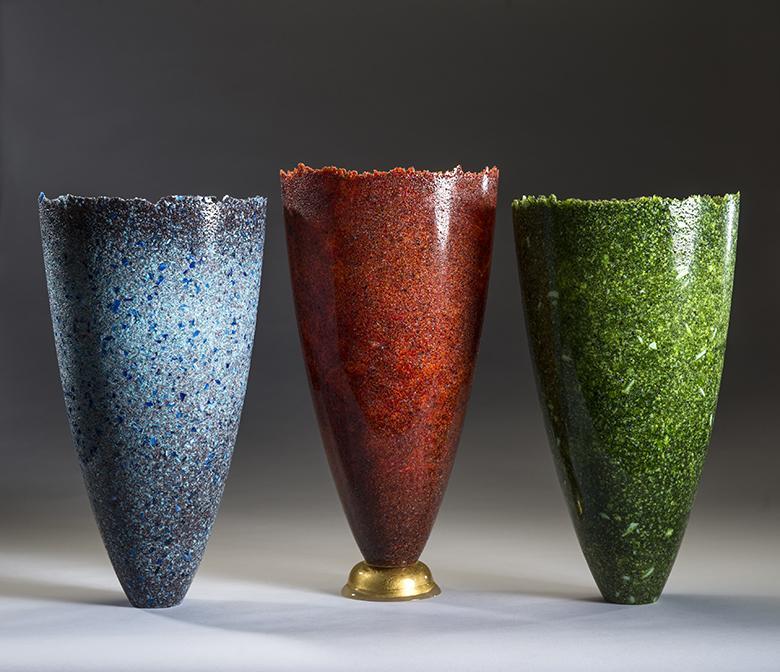 Alison Lowry, Jewels, pate de verre, 75 x 22 x 22cm each. Photographer: Glenn Norwood
Credit
Ealaín: A celebration of women artists with a day of Irish culture
On Sunday 15 July 2018, the National Gallery of Ireland celebrates Ealaín, a day of Irish culture for all the family. A full-day programme of events will focus on the vibrant lives of women artists and their great contributions to Irish art. Themed offerings will include tours, family-friendly activities, a display by leading craft makers, demonstrations and live music for all to enjoy.
At 12pm, in association with the Design and Crafts Council of Ireland, the Gallery presents Meet the Makers. This pop-up display will include works by seven women designer-makers representing the highest standards of Irish design and craft: Alison Lowry, Úna Burke, Sasha Sykes, Nuala O'Donovan, Cecilia Moore, Julie Connellan and Jennifer Hickey. At the same time, expert basket-maker Alison Fitzgerald will give a live demonstration in the Gallery's Courtyard. 
For all the family, from 11.30am to 1.30pm, artist Eimear Murphy will host a free drop-in workshop, on the theme of Colourful Circus Characters and Creatures. 
Taking place in the Shaw Room from 3pm to 4pm, Artist's Choice is a concert in partnership with the Royal Irish Academy of Music. Talented RIAM musicians will perform pieces selected by some of Ireland's most prominent artists: Imogen Stuart, Dragana Jurišić, Vera Klute, Amanda Coogan, Niamh O'Malley, Barbara Knezevic, Geraldine O'Neill and Una Sealy. In attendance, and introducing their pieces in person, will be Vera Klute, Amanda Coogan, Geraldine O'Neill and Una Sealy.
FULL PROGRAMME
 
Time
Event

11.30am - 12.15pm 

 

Public Tour

A tour taking in works by Irish women artists, and the Circus250 exhibition 

Meet at Merrion Square

11.30am - 1.30pm

Family Workshop

A free drop-in family workshop with artist Eimear Murphy, on the theme of 'Circus Characters and Creatures'.

Maples and Calder Creative Space

12pm - 4pm 

Meet the Makers: Irish Craft Pop-Up Display

Display of works by seven women designer-makers representing the highest standards of Irish design and craft. Presented in partnership with the Design and Crafts Council of Ireland and includes: Alison Lowry; Úna Burke; Sasha Sykes; Nuala O'Donovan; Cecilia Moore; Julie Connellan and Jennifer Hickey. 

Courtyard

12.30pm - 1.15pm

Family Tour

A tour specially aimed at younger visitors, and taking in works by Irish women artists, and the Circus250 exhibition 

Meet at Merrion Square

12pm - 2pm

Craft Demonstration

Live demonstration by expert basket-maker Alison Fitzgerald. 

Courtyard

1.30pm

Public Tour

A tour taking in works by Irish women artists, and the Circus250 exhibition 

Meet at Merrion Square

3pm - 4pm

Music | Artist's Choice

A special Artist's Choice concert in partnership with Royal Irish Academy of Music: Talented RIAM musicians will perform pieces selected by some of Ireland's most prominent female artists in the stunning Shaw Room, admission free. 

Shaw Room