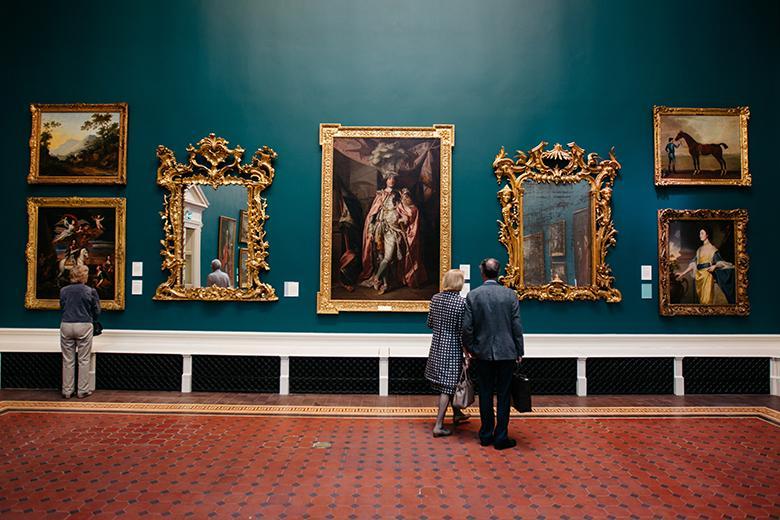 Photographer: Jack Caffrey, The Pimlico Project, 2017. Photo © National Gallery of Ireland
Credit
Two weeks of insightful, virtual events exclusively for Friends of the National Gallery of Ireland begins on Thursday, 3 February 2022. The popular annual Friends Fortnight festival returns this year with a focus on conservation, materiality, and technique in artworks and practices. This series of online events centred on the theme 'up close, from afar' can be enjoyed from the comfort of home, as the Gallery brings art to members across the globe. 
Over the course of the fortnight's interactive talks, tours and sessions, Friends of the Gallery will have the opportunity to hear from experts in various fields such as art, antiquities, fine jewellery, history, mindfulness and design.  
 
Events in week one include: an in depth look at the fascinating work happening in the Gallery's Conservation Studio; a review of Turner's watercolour palette and illuminating techniques; and a meditative virtual tour of the Gallery's collection, exploring the art of mindfulness. Lectures will also be carried out by Gallery curators Adrian Le Harivel (Curator of British Art) along with Anne Hodge (Curator of Prints and Drawings). 
 
During week two of the festival, online events include a discussion with Joanne Drum of the Gallery's Education team as well as an analysis of jewellery in the national portrait collection by Sotheby's London fine jewellery specialist Jemima Chamberlain-Adams, F.G.A.
 
Friends Fortnight also features art historian Jessica Fahy discussing rebel women who paved the way in history as well as a virtual tour of the Gallery through an LGBTQ+ lens with guide Aoife Convery. 
 
Dr Elaine Sisson of IADT will examine Anne Yeats' set designs for The Abbey Theatre. Art historian Aisling Dunne will take a closer look at the three-dimensional works in the collection and National Gallery of Ireland Director, Sean Rainbird, will deliver a special lecture to members. 
All Friends Fortnight events are free to Friends of the National Gallery of Ireland. Friends support the work of the National Gallery of Ireland, including exhibitions and acquisitions. Annual membership starts at €35, with Individual, Joint, Concessionary, Patron and Student categories available. For more details, including sign up and a full programme of Friends Fortnight events visit the Gallery's website.
Friends Fortnight schedule:
3 February, 3pm: Director's Lecture: Join Sean Rainbird, Director of the National Gallery of Ireland, for his annual lecture for Friends. 
4 February, 1pm: Conservation Talk: From the Conservation Studio; Mainie Jellett: A Threefold Screen. Gallery paintings conservator Maria Canavan presents a treatment in progress in the conservation studio on a unique painted folding screen by Mainie Jellett. 
5 February, 12pm:  Talk on J.M.W Turner: Turner's Palette: Discussion with Anne-Marie Clarke on Turner and his techniques. 
6 February, 1pm: Mindfulness Talk: Gallery guide Maria Broderick will explore the practice of mindfulness through engaging with artworks. 
7 February, 1pm: Curators Talk: Return of the Marquis: A discussion with Curator of British Art, Adrian Le Harivel, on a work by Alexander Roslin (Le Marquis de Vaudreuil).
8 February, 1pm: Behind the Scenes Talk: A Closer Look: Research and the Materiality of Paintings at the National Gallery of Ireland - with Gallery archivist Leah Benson and Gallery paintings conservator Muirne Lydon. 
9 February, 12pm: Young Gainsborough: Rediscovered Landscape Drawings - Curators Talk:  Join us for an examination of the early work of Thomas Gainsborough with curator Anne Hodge ahead of her exhibition Young Gainsborough: Rediscovered Landscape Drawings. 
10 February, 1pm: Giacometti: From Life - Curators Talk: Curator Janet McLean will introduce the exhibition, which runs at the Gallery from 9 April to 4 September 2022, and discuss the main models who feature in it.
11 February, 6pm: Jewellery Talk: Hidden Gems - Joanne Drum, from the Gallery's Education department will host a discussion with fine jewellery specialist at Sotheby's London Jemima Chamberlain-Adams F.G.A about examples of jewellery worn in the National Gallery of Ireland's collection of portraits.
12 February, 2pm: 'Rebel Woman' Talk: From suffrage, to Irish independence to abstract art, the story of each rebellion is linked to some extraordinary Irish women artists. This talk, with Gallery guide Jessica Fahy, will explore artworks by these rebel women including Grace Gifford, Estella Solomons, Mainie Jellett, Evie Hone and Mary Swanzy.
13 February, 1pm: LGBTQ+ Tour: Join Gallery guide Aoife Convery for a guided 'virtual' tour of the Gallery through an LGBTQ+ lens.
14 February, 1pm: Talk for St. Valentine's Day: Gallery guide Mags Harnett will look at the general themes of love and friendship using works from the collection in the National Gallery of Ireland.
15 February, 2pm: Design Talk: Anne and the Abbey: Anne Yeats's Theatre Designs for the Abbey Theatre 1936-1941 with Dr Elaine Sisson.The talk will include some of Yeats' sketch books and drawings held in the Yeats Archive at the National Gallery of Ireland and in the archives of the Abbey Theatre.
16 February, 6pm: Sculpture Talk: Join Gallery guide Aisling Dunne and discover the historical and innovative techniques used in the practice of sculpture. 
17 February: Conservation Video: With Simone Mancini Head of Conservation at the National Gallery of Ireland. Enjoy an opportunity to hear from the Gallery's Head of Conservation about his ongoing work, including a selection of sixteenth-century Italian paintings from the national collection which feature in a new display Christ & His Cousin: Renaissance Rediscoveries. The exhibition will open in the Hugh Lane Room on 29th January 2022. **The pre-recorded video will be sent by email on Thursday 17 February to close Friends Fortnight 2022
Media contact:
Ciara Mooney, Communications, National Gallery of Ireland, E: [email protected] 
Notes to Editor:
Images are available on request. 
About Friends of the National Gallery of Ireland:
Friends can engage with and enjoy the national collection through a variety of events and exhibitions.
Free unlimited entry to all ticketed exhibitions (pre-booking essential)
Friends Fortnight: an annual two-week festival in February with exclusive daily event
Live virtual events, sharing first knowledge and behind-the-scenes stories about Gallery exhibitions and projects
Exclusive access to digital content, including videos of art history talks and lecture series, shared via weekly email newsletters
10% discount in the Gallery Shop all year
10% discount on customised prints
20% discount on selected online Education events
Early bird booking for selected online events
A copy of the Gallery's new magazine, The Galley
About the National Gallery of Ireland:
The National Gallery of Ireland is one of the country's most popular visitor attractions housing the nation's collection of European and Irish art from about 1300 to the present day, and an extensive Library & Archive. Entry to the collection is free for all to enjoy, learn and be inspired.