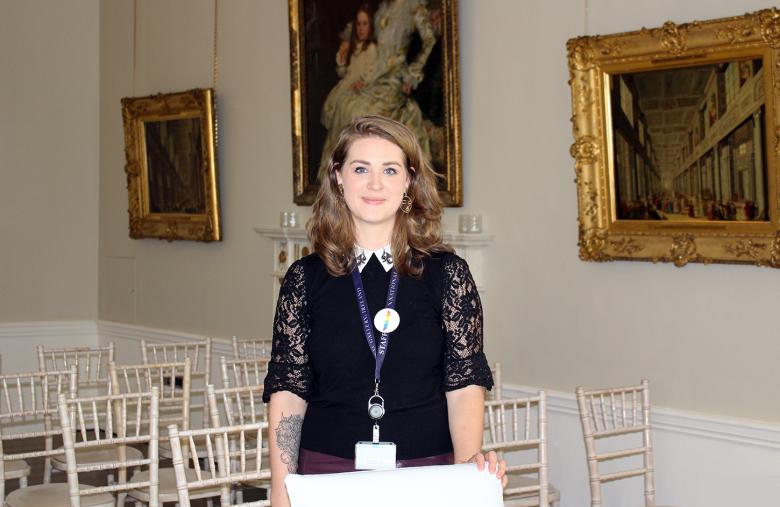 Sarah Thomas, Corporate Engagement and Events Manager at the National Gallery of Ireland
Credit
Meet the Staff: Sarah Thomas, Corporate Engagement and Events Manager
If there's a wedding, exhibition opening, conference, book launch, or corporate party happening in the Gallery, Sarah and her team are behind it! Here, she shares a little about her job, her experience of the Gallery and her favourite things.
What do you do at the Gallery?
I manage the Events team. We look after all internal Gallery events, like exhibition openings, as well as external company hires, weddings, and corporate partner events. We also recently launched a new event called Tipple with Art, which is an art class with a twist! Each month we take inspiration from a different work from our collection or a temporary exhibition, and participants create their own mini-canvases while enjoying a glass of prosecco. Our next one, coming up on 10 October, will focus on a sun-filled painting by Sorolla, currently on view in our exhibition.
What is your favourite part of your job?
I really enjoy working closely with our clients to make their vision come to life. But, I also love our Tipple with Art evenings. It's amazing to see how everyone interprets the piece in their own way!
What is the best part of working at the Gallery? 
Knowing that our work in Events supports the free public programming as well as the exhibitions programme.
What does a typical day look like?
A typical day usually entails liaising with clients, suppliers (catering, AV, entertainment, photographers, florists, etc.), and various teams within the Gallery to ensure everything is set up and perfect for each event.
What work from the collection surprises you?
Argenteuil Basin with a Single Sailboat by Monet. The skill, care, and dedication that went into its conservation treatment never ceases to stun me.
What is your favourite space in the Gallery?
I love the Courtyard. It's a calm space to reorient yourself.
What's your first memory of the Gallery?
Coming in to visit when I first moved to Dublin in 2015. I got completely turned around and lost in the labyrinth of galleries! I panicked and had to ask for directions to the exit.
What is your secret talent?
I make fantastic tacos.
What's your top Dublin recommendation, or your favourite thing about the city?
I love a quiet brunch and coffee at Two Pups Coffee, and there are always great gigs and events on at the Sugar Club on Leeson Street.
Favourite museum or gallery (apart from the National Gallery of Ireland)? 
Van Gogh Museum in Amsterdam.
Best piece of advice you've ever received?
Stay curious.
Thank you, Sarah!