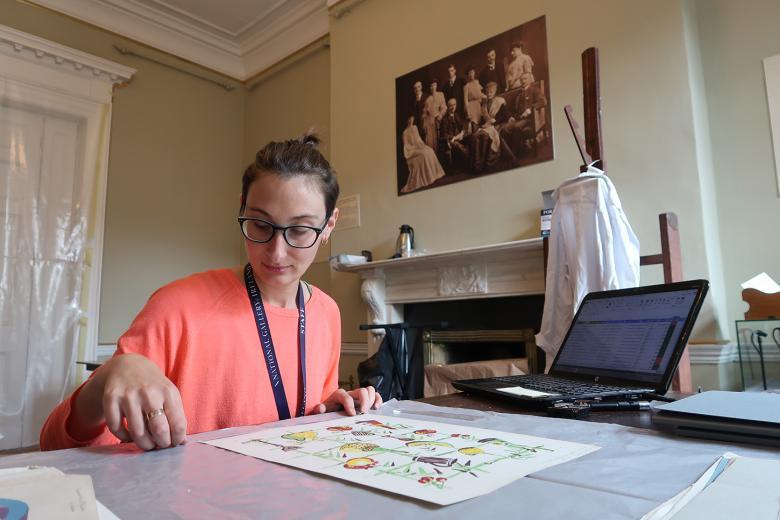 Mathilde Renauld, National Gallery of Ireland Paper Conservator, at work.
Credit
Mathilde Renauld works as a Paper Conservator at the Gallery, part of our skilled conservation team who work hard to make sure that the Gallery's collection is preserved for generations to come. 
Here, Mathilde talks to us about her job, her secret talent, and the conservation advice which also serves as great life advice!
What do you do at the Gallery?
I am a Paper Conservator, which means I work as part of a team to ensure the long-term safekeeping of our collection of artworks on paper. This ranges from regularly documenting our collection to monitor change, remediating any damage, improving storage conditions for preservation, and preparing artworks for safe display.
What is your favourite part of your job?
The problem-solving. Every artwork is unique and every problem is different, and any action I undertake has to be tailored to the identity of the artwork and to its future needs. This means that every case brings its own issues and solutions!
What is the best part of working at the Gallery? 
I have a big sense of pride in working for the national collection, and I feel my colleagues across all departments are all passionate people in the same way, which makes work stimulating.
What does a typical day look like?
If I'm working on-site, I first check my emails, so it's out of the way. I then usually have a couple of projects lined up: preparing works for the next exhibition, or re-housing a bulk of artworks. This means there'll be a couple hours of hands-on work, such as cutting mounts, hinging artworks, framing; or I can sit down for an entire day to focus on a tricky conservation treatment, such as removing old glue from an image, or consolidating flaking paint. I'm often called to check the condition of incoming acquisitions, and will finish the day with admin such as updating treatment documentation, updating progress on exhibition preparation, creating
condition notes, or requesting artworks to be moved back to storage or brought to me.
What is your favourite space in the Gallery?
The stained glass room; I absolutely love stained glass and the atmosphere in the dark room with the backlighting on the stained glass is really something.
What's your first memory of the Gallery?
I visited as a tourist to Dublin in 2017… and nearly all the wings were closed for refurbishment!! (Editor's note: the Gallery's historic wings reopened in June of 2017 after a lengthy refurbishment project - you can read about the work involved here, or, if you are in the mood for a much deeper dive, there's a documentary about the project available on the RTE Player.)
What is your secret talent?
I spontaneously come up with jingles/tunes for things. Perhaps I should have worked in advertising! 
What's your top Dublin recommendation, or your favourite thing about the city?
My favourite thing about Dublin is the city centre's architecture. I love the Georgian townhouses, and the weird mix of influences in other buildings such as Palladian, Venetian, Art Deco… there's always some detail to catch my eye which I haven't noticed before!
Favourite museum or gallery (apart from the National Gallery of Ireland, of course)? 
Tate Modern – probably my most-visited gallery and where I have very fond memories, both of artistic enlightenment, but also from going with friends!
Best piece of advice you've ever received?
It's specific to my job, but relevant in life too! Mistakes happen and what matters is whether you know what went wrong and how to fix it/ avoid it next time.
Thank you, Mathilde! 
You can explore some of the projects that Mathilde and her colleagues in the Conservation Department have worked on here.