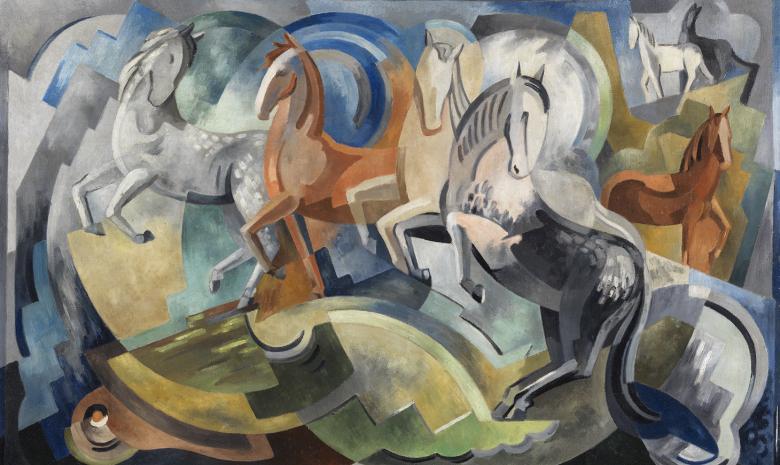 Mainie Jellett (1897-1944), Achill Horses, 1941. This work is licensed under a Creative Commons Attribution 4.0 International License.
Credit
Follow this step by-step video to learn how to create your own drawing inspired by Mainie Jellett's painting Achill Horses.
You'll find all the materials and instructions listed below. Let's get started!
Watch the video!
To watch the video: Due to new e-privacy measures on our site, you'll need to click on the cookie symbol in the bottom-left corner of this page and tick the boxes to accept statistics and marketing cookies in order to watch the video embedded on this page. Alternatively, you can watch it on YouTube.
National Gallery at Home
Mainie's Mares
Play
Materials and instructions
You will need:
Instructions: 
Start by bringing your pencil for a walk across the page. Use curved and straight lines to create different shapes.
Download and print out this page of horses. You can use it to trace the horses, or you can look at the line drawings to help you draw your own.
If you want to trace: select a horse on the print out, flip the page over and scribble over the horse on the back of the page using a dark pencil.
Turn the print out over, and place it with the scribbled side down on your drawing.
Use a sharp pencil to trace the outline of the horse. This tracing process creates a ghost image of a horse on the page underneath.
You can also draw the horses freehand, if you prefer!
Draw at least three horses of different scales, putting the biggest one at the front.
Now it's time to colour in! Try to use a different colour in each shape, like Mainie.
You can mix or blend two colours together.
You can make a dark tone by leaning heavily on the pencil or crayon.
Keep going until all of the shapes are filled with colour.
Take your time and have fun!
Share your artwork!
Would you like to see your artwork featured on the Gallery's website? Take a photo of your artwork and send it to us by email ([email protected]) or using this online form to upload your picture. We'll feature a selection of pictures in the Creative Challenge Gallery, so check back to see if yours is included!
Upload a picture of your artwork using this form
Inspired by ...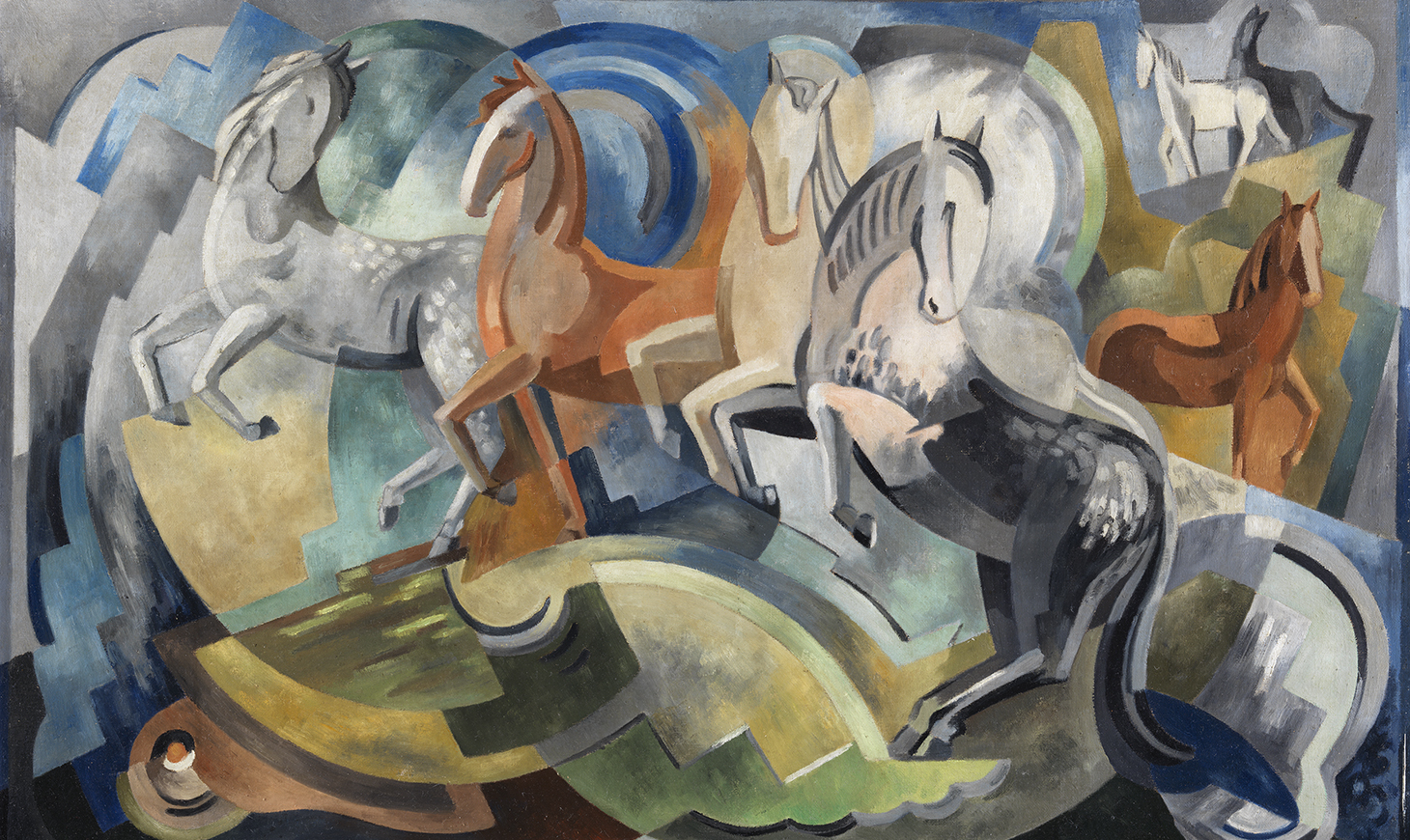 Mainie Jellett (1897-1944), Achill Horses, 1941. This work is licensed under a Creative Commons Attribution 4.0 International License.
Credit
Mainie Jellett (1897–1944) was a famous Irish artist. She painted in a cubist style, breaking things down into geometric shapes. Take a look at her painting, above. Can you spot four different shapes?
Credits:
Created by artist Sarah Edmondson for the National Gallery of Ireland.
Music: 'Rhythm of Memories' by Earth. 
About our Gallery at Home videos:
Inspired by works in our collection and exhibitions, our creative activities encourage families to work together to create their own artworks. They are specially produced videos for babies, older children and for those who require sensory input. You can find all the workshops in this series here. Enjoy!