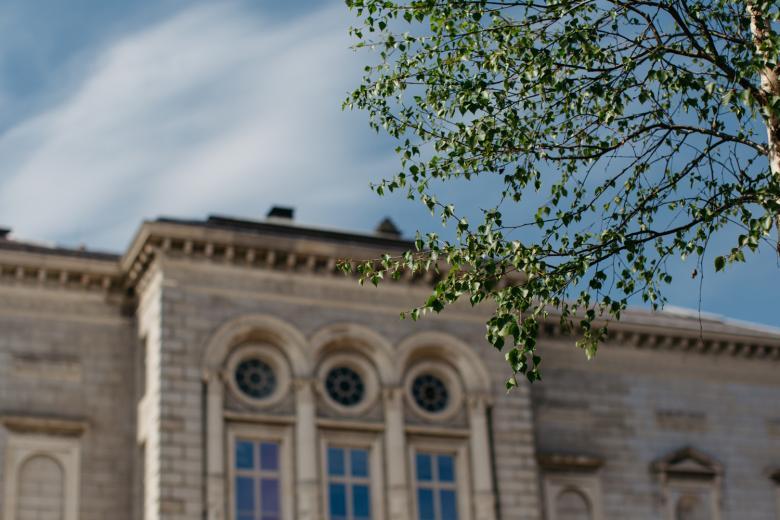 © National Gallery of Ireland. Photographer: Jack Caffrey, The Pimlico Project, 2017.
Credit
We look forward to welcoming you back to the Gallery on 20 July.
In the meantime, you can stay connected with us online, where we're posting daily on Twitter, Facebook and Instagram.
Find out more about enjoying the Gallery from home here
Shining a light through the shutters
A message from our Director, Sean Rainbird
On the evening of Thursday 12 March, the National Gallery of Ireland closed its doors. Like every day of the week, the security team conducted the routines that secure the building and collections for the night. This time, though, it was different. The closure was in response to the present pandemic. As we now face into more weeks of closure and uncertainty, the ripples from impacted individuals and institutions continue to spread outwards, affecting all our lives.
When something like this occurs, it just happens. Its effects on our daily lives, on the economy, on society, are unprecedented. Yet, several weeks in, the staff at the Gallery have adapted productively to new ways of working. We have continued to present the collection—this time online. Already around 40,000 people have gone on a virtual tour. Yet still, this closure feels unique and significantly different. We are adjusting our exhibition programme for 2020, and were disappointed to have had to cancel Irish Horse. We might need to postpone future exhibitions. We need to be both cautious (financially) and bold (in serving our community) while driving through thick fog. The silver lining is that our collection is rich enough to generate some home-grown gems for our public programmes in future.
The challenges are demanding and abundantly clear. It is the opportunities, though, that we must seek out and exploit during these extraordinary times. My thoughts turn to our Friends, Patrons and colleagues. And, very much, to the communities we serve. This will become ever more vital as we enter a period of recovery. Living artists, performers and art historians make their contributions to our acquisitions, to our programmes, to tours, talks and workshops. We are part of their eco-structure and they are part of ours. Beyond existential needs—food in the belly and a roof over our heads—culture and creativity provide solace and inspiration to fulfil intangible human needs. The Gallery is there as a channel, a vessel and an originator, to showcase the creativity and achievements of our community. And we will now pull together.
While the rooms might currently echo only to the footsteps of our security officers, the works they contain continue to face out from the walls, even if our visitors aren't there. We are currently trying to give them an online voice. As soon as we are able, though, the security staff will reverse their routine of 12 March, unlock the front doors and let everyone back into the Gallery.
That will be a joyous moment.
Information for ticketholders
If you have purchased a ticket for an event with us, you may choose to donate the cost of your ticket to support the future of the National Gallery of Ireland. We appreciate your support.
If you would prefer to receive a refund, our team will be in touch. If you purchased by cash or at the Gallery ticket desk, these transactions will only be possible to refund once the Gallery reopens. 
If you have a specific query about one of the following areas:
Would you like to make a donation?
We are a charity. Our innovative exhibitions and community outreach and education programmes are made possible through your support. If you are in a position to support the future of the National Gallery of Ireland, please give what you can today. All donations make a difference, particularly during the difficult period we are all currently experiencing.