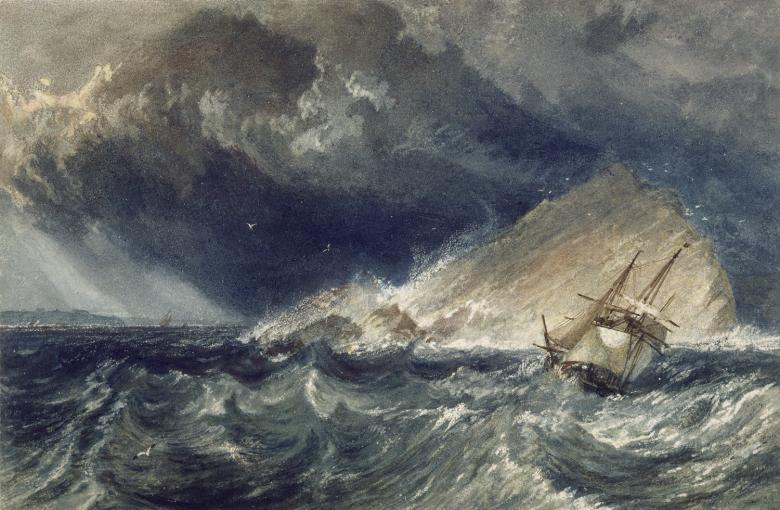 Joseph Mallord William Turner (1775-1851), 'A Ship against the Mewstone, at the Entrance to Plymouth Sound', c.1814. © National Gallery of Ireland.
Credit
J.M.W. Turner's watercolours
Stop 17 on the First Fortnight Art Trail
Although Turner guarded his private life very carefully, there is evidence that he and some family members were affected by mental illness. In 1799 his mother Mary Turner was admitted to St Luke's Hospital, a public 'asylum' in London. Turner also suffered from mental health issues and it may be possible to glimpse a sight of this tumult within the artist's paintings; art critic Adrian Stokes wrote that Turner was a painter 'whose inner world everywhere intertwined with the outer'.
After his mother died in April 1804, a period during which Turner endured a number of professional conflicts, there was a significant drop in his output, perhaps a symptom of masked depression. His father's death in 1829 had the most profound effect on Turner, and he was increasingly prone to bouts of depression from that point onwards. However, Turner took great solace and joy in the presence of his children and extended family at his Farnley estate. 
On display in Room 24, Print Gallery, Level 2

About First Fortnight Festival
First Fortnight is a charity that challenges mental health prejudice through arts and cultural action. In January 2019, the National Gallery of Ireland is offering an education and engagement programme of events focusing on mindfulness and mental health. This Art Trail is part of the programme. See the full programme of First Fortnight events at the Gallery