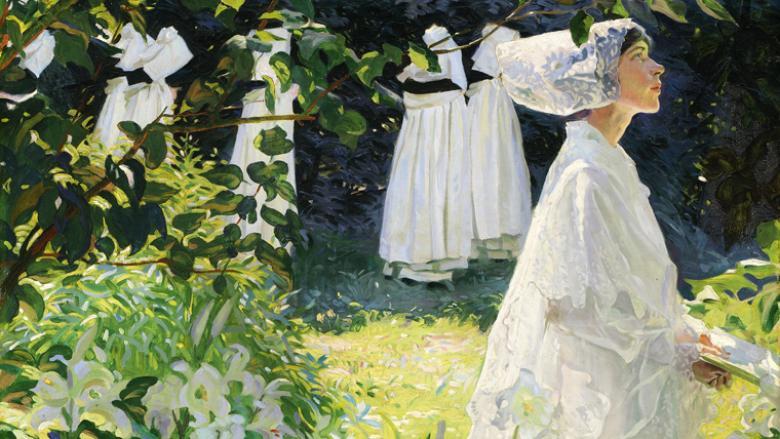 William John Leech (1881-1968), 'A Convent Garden, Brittany' (detail). © National Gallery of Ireland.
Credit
'A Convent Garden, Brittany' by William John Leech
| | |
| --- | --- |
| Year | c.1913 |
| Size | 132 x 106 cm |
| Medium | Oil on canvas |
| Provenance | Presented, Mrs M. Botterell, 1952 |
| Number | NGI.1245 |
Stop 5 on the First Fortnight Art Trail
The link between art and well-being is widely acknowledged. Artworks contribute to our sense of optimism and hope and, in doing so, can strengthen and expand our sense of what is possible.
This painting by Leech is charged with optimism and positivity. It represents, in part, a celebration of the artist's recent marriage to his wife Elizabeth. The intensity of the sunlight, beautiful lilies, and the purity suggested by Elizabeth's ceremonial bridal costume, all contribute to this positive atmosphere.
On display in Room 18, Milltown Wing, Level 1

About First Fortnight Festival
First Fortnight is a charity that challenges mental health prejudice through arts and cultural action. In January 2019, the National Gallery of Ireland is offering an education and engagement programme of events focusing on mindfulness and mental health. This Art Trail is part of the programme. See the full programme of First Fortnight events at the Gallery