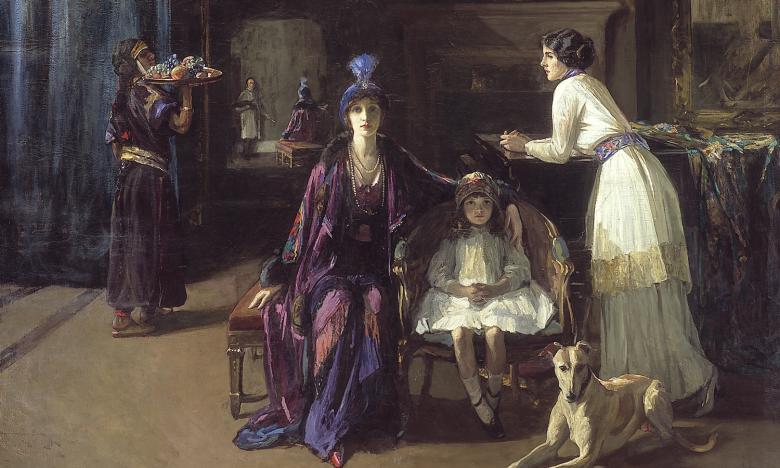 John Lavery (1856-1941), 'The Artist's Studio: Lady Hazel Lavery with her Daughter Alice and Stepdaughter Eileen', 1910-1913. © National Gallery of Ireland.
Credit
'The Artist's Studio' by John Lavery
| | |
| --- | --- |
| Year | 1910-1913 |
| Size | 344 x 274 cm |
| Medium | Oil on canvas |
| Provenance | Purchased, 1959 |
| Number | NGI.1644 |
Stop 6 on the First Fortnight Art Trail
John Lavery and his wife Hazel were well known in exclusive social circles in London during the 1910s. As such, they had contact with some of the most powerful figures in early twentieth-century Britain, including Winston Churchill.
Churchill suffered from bouts of severe depression throughout his life, describing it as his 'black dog'. Hazel Lavery introduced him to painting as a means of easing his suffering. Churchill discovered this to be an effective antidote to his depression, and developed it into a passion that would remain with him throughout his life. He was initially instructed by Hazel, but later joined John Lavery in his studio, occasionally painting alongside him.
On display in Room 16, Milltown Wing, Level 1

About First Fortnight Festival
First Fortnight is a charity that challenges mental health prejudice through arts and cultural action. In January 2019, the National Gallery of Ireland is offering an education and engagement programme of events focusing on mindfulness and mental health. This Art Trail is part of the programme. See the full programme of First Fortnight events at the Gallery