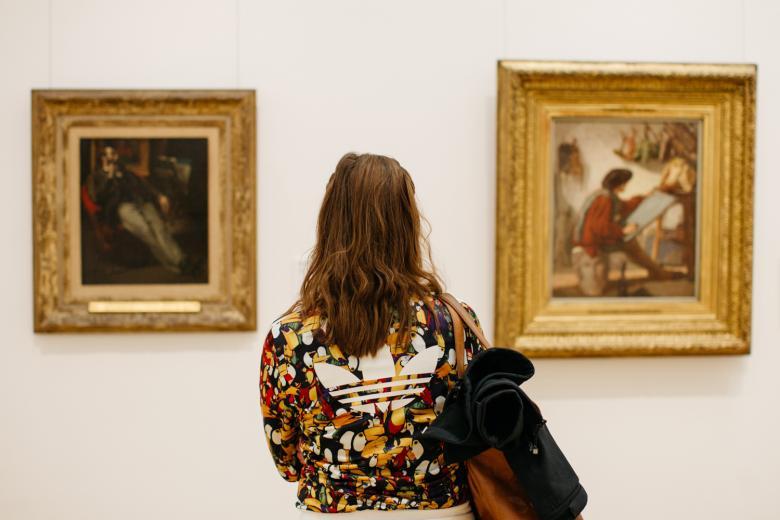 Photo © The Pimlico Project
Credit
Mindfulness and Mental Health
7 - 21 January 2019
First Fortnight is a charity that challenges mental health prejudice through arts and cultural action. In January 2019, the National Gallery of Ireland will continue to support the charity by actively participating in the First Fortnight festival, providing a tailored education, learning and engagement programme focusing on mindfulness and mental health.
From discussions and debates to practical sessions and workshops, all ages and abilities will have the opportunity to connect with this topic.
All activities will be facilitated by a member of the Gallery education team, supported by a member of First Fortnight, as well as a host of invited speakers and artists.

First Fortnight events at the Gallery 
Mindful drawing sessions for adults

10 January at 6pm, and 12 January at 2pm

Artist Beth O'Halloran will lead this mindful drawing session, encouraging you to really see the art you are looking at.

SOLD OUT

Mindfulness tours

12 & 19 January at 1.30pm, and 13 January at 2.30pm

Looking closely, and moving quietly and mindfully through the Gallery spaces, we will encounter each work of art with curiosity, allowing us to connect deeply with it. The tours will end with quiet reflection in silence and stillness.

Meet at the Merrion Square information desk

Free

No booking required

Tuesday Talk & Tea \ Outside Art and Mental Health

15 January at 11am

Join Dr Riann Coulter for this fascinating talk about outsider art and mental health. Following by a chat over tea and coffee.

Tickets €5

Baby Workshops \ Soothing Sessions

21 January at 12pm & 2pm

Artist Beth O'Halloran will lead two sensory baby sessions for babies and their grown-ups. Beginning with a visit to the gallery, the session will then focus on gentle relaxation (for adults and babies), and soothing pressure points.

Tickets available from 9am on Tuesday, 15 January 2019.

SOLD OUT

Finding Power: Arts and Mental Health for Young People

12 January at 3.30pm

Artist and activist Joe Caslin will examine his own practice and art that inspires him, connecting to the topic of mental health and the importance of awareness for young people.

Tickets €5

Pop-up talks

11 & 15 January at 1.15pm

Gallery pop-up talks are a chance to focus closely on a single work of art in the collection. Join Aoife-Marie Buckley for these talks exploring mental health and the arts.

Free. No booking required.

First Fortnight  Art Trail

7-20 January

Follow this digital trail of works in the Gallery's collection and discover stories of mental illness, stigma, resilience and hope.

Free