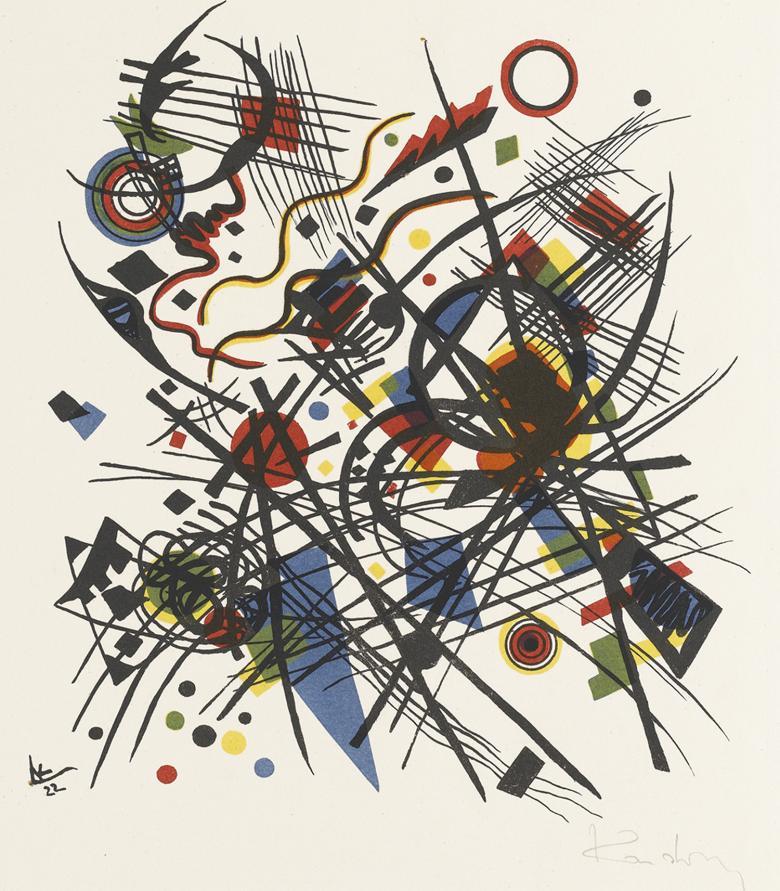 Wassily Kandinsky (1866-1944), Composition, 1922. Courtesy Staatsgalerie, Stuttgart.

Credit
Exhibitions 2019
The National Gallery invites our visitors to enjoy a specially curated programme of exhibitions for 2019, spanning the historic to the contemporary. In the coming year, we will introduce new artists, and bring renowned international masters to Ireland for the first time.
Turner: The Vaughan Bequest
1-31 January 2019
Print Gallery
In the heart of winter, Turner's luminous watercolours light up the darkness, delighting visitors for the month of January. In 2019, we complement Turner's watercolours with a selection of prints from his Liber Studiorum series, which comprises some 70 of his landscape and seascape compositions, recreated as prints.
This exhibition is kindly sponsored by Sarasin & Partners.

Curator | Niamh MacNally
Nathaniel Hone
23 February – 1 September 2019
Hugh Lane Room (Room 31)
In 2019, the 100th anniversary of artist Nathaniel Hone's bequest to the Gallery, we celebrate the largest ever gift of artworks presented to us, comprising 400 items, of which 225 are paintings. Select examples of Hone's work, including Irish landscapes, will be showcased in this in-focus display.

Curator | Brendan Rooney
Making their Mark: Irish Painter-Etchers & the Etching Revival 1880-1930
2 March – 30 June 2019
Print Gallery
From the end of the nineteenth century to the beginning of the twentieth, a group of Irish artists made a remarkable contribution to Irish visual culture, through the medium of print. Rediscover a neglected part of Ireland's artistic history, through this wonderful gathering of etchings from important public collections, by both renowned and lesser known artists, including Walter Sickert, Estella Solomons, Walter Osborne, Myra Hughes and Roderic O'Conor.
Curator | Anne Hodge, with guest curator Dr Angela Griffith, Trinity College Dublin
The Voyage of Italy: Italian travel guides 1550-1800
April - November 2019
Library and Archive Gallery (Room 11)
In 2010, Sir Denis Mahon gifted his library and archive to the Gallery. This exhibition, marking the completion of cataloguing the library portion of the bequest (8,500 books and 600 rare items), showcases travel guidebooks from the 1500s to the 1800s, from Italian cities of the 'grand tour' such as Genoa, Rome and Naples. See first editions, handwritten commentary on antique sites of interest, and the first renaissance guide to Florence.
Curator | Catherine Sheridan
Shaping Ireland
20 April – 7 July 2019
Beit Wing (Rooms 6-10)
In a first-time exploration of Irish landscape art, the Gallery breaks new ground with this 'concept show' inviting analysis of how artists have interpreted the impact of human activity on the changing shape of Ireland's terrain. The exhibition spans 250 years, featuring oil paintings, sculpture, works on paper, video and photography. In addition to historic vistas, be the first to see the Gallery's wealth of recent acquisitions including works by Dorothy Cross, Nick Miller, Amelia Stein and Sean Scully, alongside a special video installation by Niamh O'Malley.
Curator | Donal Maguire
Bauhaus Prints. New European Graphics
20 July – 13 Oct 2019
Print Gallery
In celebration of the 100th anniversary of the founding of the Bauhaus, the Gallery is borrowing a complete set of four important portfolios of Bauhaus prints from the Staatsgalerie in Stuttgart in 2019. They comprise over 50 woodcuts, etchings, lithographs and linocuts by renowned international avant-garde artists such as Paul Klee, Max Beckmann, George Grosz, Ernst Ludwig Kichner, Marc Chagall, Wassily Kandinsky, Umberto Boccioni, and Natalia Goncharova, giving insight into the larger Bauhaus phenomenon, and the artists' shared belief in its goal of reshaping modern life through art and design.

Curator | Niamh MacNally
Joaquín Sorolla
10 August – 3 November 2019
Beit Wing (Rooms 6-10)
Spanish master of light Joaquín Sorolla is particularly popular in Spain and the US – his exhibitions have drawn up to four million visitors to venues in his home country. For the first time in Ireland, viewers are invited to immerse themselves in Sorolla's large-format canvases of beaches flooded with glittering light on water, sunny landscapes and glimpses into everyday life and costumes in the Spanish regions.
In collaboration with the National Gallery, London.
Curator | Brendan Rooney
Zurich Portrait Prize 
5 October 2019 - 12 January 2020
Room 23
Showcasing emerging and long-standing artists, the coveted Zurich Portrait Prize is an eagerly anticipated fixture on the artistic calendar. It attracts entries from across the island of Ireland, and from Irish artists practising as far afield as Spain, the United States, Poland and Germany. The exhibition of shortlisted works offers a snapshot of contemporary portrait practice. The Zurich Portrait Prize winner scoops €15,000, plus a €5,000 commission to create a work for the National Portrait Collection.