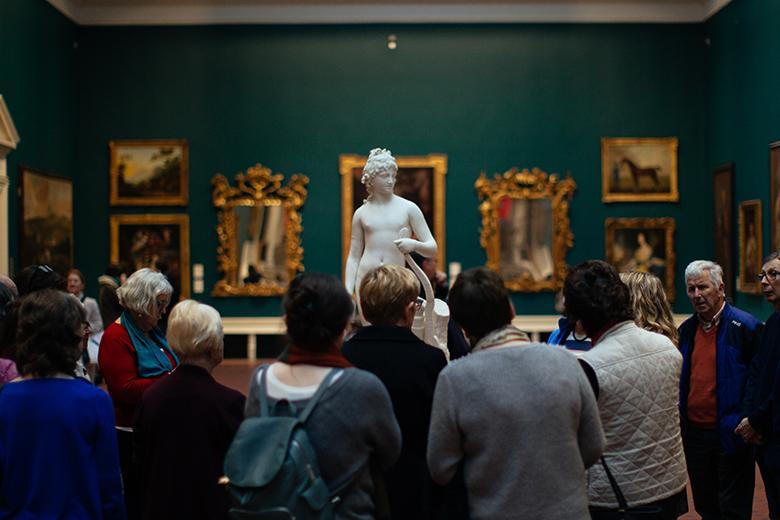 Image © National Gallery of Ireland. Photographer: Jack Caffrey, The Pimlico Project, 2018.
Credit
Exclusive events offering members deeper engagement with the collection
Due to ongoing COVID-19 measures, we have adapted our membership benefits to ensure that Friends can continue to engage with and enjoy the national collection. Although we cannot hold in-person events in the Gallery, we are bringing the Gallery to you through a rich variety of digital events and content, including:
Live virtual events via ZOOM, sharing first knowledge and behind-the-scenes stories about Gallery exhibitions and projects
Exclusive access to digital content, including videos of art history talks and lecture series, shared via weekly email newsletters
Current members are notified of upcoming events and booking information via our weekly email newsletter.
JOIN NOW  |  RENEW YOUR MEMBERSHIP  |  BUY AS A GIFT  |  LOG INTO YOUR ACCOUNT
From a member of the Friends
"... huge thanks for the wonderful and inspiring lectures and paintings which are arriving with great regularity to the inboxes of the Friends ... it is such a privilege to sit at home and watch this wonderful and educational  content."
Members-only Events
Although much of the information below does not apply while COVID-19 measures are in place, read on to discover the benefits you can enjoy once the measures are lifted.
Gallery-based free events:
Monthly welcome tour for new members – pre-booking required
Monthly 'artwork in focus' talks – pre-booking required
Previews of selected exhibitions – pre-booking required
Exclusive art appreciation lunchtime lecture series on Wednesdays. Spring and autumn, 20 talks in total.
Gallery-based ticketed events (including refreshments):
Annual evening lecture with the Director of the National Gallery of Ireland
Curators' evening 'hear-it-first' lectures, prior to exhibitions opening to the public
Gallery Time events, including a talk, tour and afternoon tea
Behind-the-scenes events with the Library & Archives and Prints & Drawings departments
Themed evening tours
Christmas concert in the Gallery's magnificent Shaw Room
A range of special events during Friends Fortnight at the Gallery
Offsite ticketed events:
Day trips around Ireland
Half-day outings to other cultural institutions
Walking tours
Irish, UK and European overnight trips inspired by the national collection and exhibitions
In addition to the calendar of exclusive events for Friends, why not experience the full range of educational talks, tours, workshops and courses that take place in the Gallery. See the What's On calendar
Contact us
If you have any questions about membership of the Friends of the National Gallery of Ireland
contact the Friends team on
+353 (0) 1 661 9877 or [email protected]