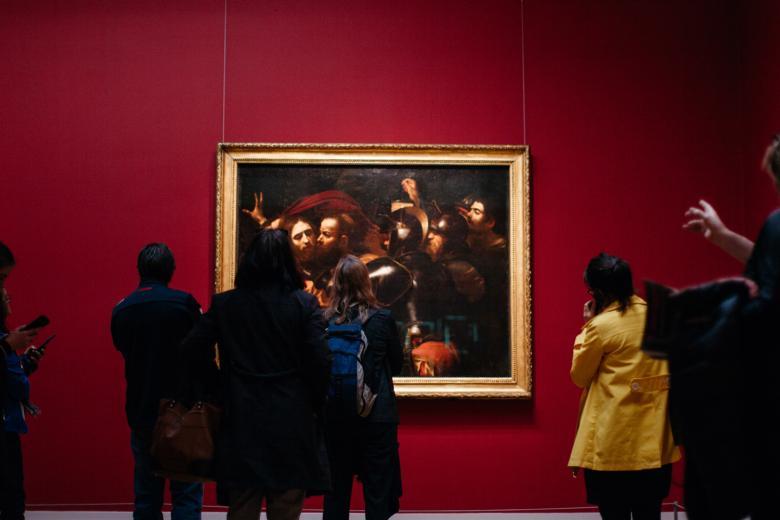 Image © National Gallery of Ireland. Photographer Jack Caffrey, The Pimlico Project, 2017.
Credit
Caravaggio 25 \ A celebration
Caravaggio's The Taking of Christ was unveiled at the National Gallery of Ireland on 16 November 1993.
Join us on Thursday, 15 November, as we mark the 25th anniversary of the unveiling of this masterpiece with a full day of themed talks, tours, films, music and entertainment.
Schedule of events \ Thursday, 15 November 2018
2pm & 4pm 

Film screenings \ Private Life of a Masterpiece: 'The Taking of Christ' by Caravaggio

A fascinating BBC art documentary investigating the painting and revealing the intricate details of the artist's life. 

Millennium Wing Studio

Free. No booking required.
4.30pm - 8.30pm 

Thursday Lates \ Caravaggio 25

Join us for a night of 90s nostalgia with music from Nialler9 who will be playing all the best hits of the era. Learn about the Italian collection and the work of Caravaggio and his followers on two special tours. Experience a dramatic shadow-puppet performance by Tales from the Shadows, a nod to the master of shadow and light himself. Plus enjoy delicious Italian-inspired food and drinks, fabulous nail art by Tropical Popical, and pop-up performances by musicians from the RIAM.

Courtyard

Free. No booking required.
5.30pm - 6.15pm 

Caravaggio 25 \ Conversation 

Fr Noel Barber SJ will be in conversation with former director of the Gallery Raymond Keaveney, discussing the rediscovery of Caravaggio's masterpiece in the Jesuit house in Dublin, and the impact of the painting on Gallery visitors since it was first displayed in 1993. The discussion will be led by broadcaster Marian Finucane. 

Lecture Theatre

Free. No booking required.
6.30pm - 7.30pm

Lecture \ Professor Richard Spear on Caravaggio

Professor Spear is Professor Emeritus, Oberlin College, and Affiliate Research Professor, University of Maryland.

Lecture Theatre

Free. No booking required.