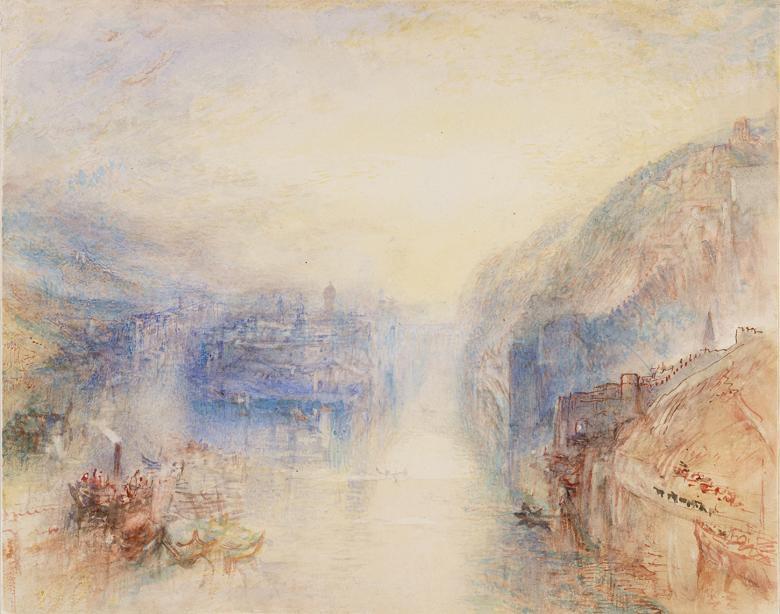 Joseph Mallord William Turner (1775-1851), Passau, Germany, at the Confluence of the Rivers Inn and Danube, 1840.
Credit
Visitor notice: Following Government advice, the Gallery will be closed from 24 December 2020 until further notice. Read more
January 2021
Print Gallery | Free entry
In 2021, the Gallery's exquisite collection of light-filled watercolours by J.M.W. Turner (1775–1851) will be shown alongside a group of topographical drawings by Francis Place (1647–1728). This is the first time that these two important collections have been shown together. Place's precisely detailed views are the earliest known depictions of Drogheda, Dublin, Kilkenny, and Waterford in the national collection. This fine collection of early drawings, offering a rare glimpse of late seventeenth-century Ireland, was purchased almost 50 years ago through the Gallery's Shaw fund. 
In 1900, the National Gallery of Ireland received a bequest of 31 watercolours and drawings by Turner from the English collector Henry Vaughan (1809–99). Vaughan stipulated in his will that the watercolours be exhibited every year, free of charge, for the month of January, when the light is at its weakest. Since 1901, the Gallery has displayed the watercolours for the month of January, thereby upholding the conditions of his bequest. January 2021 marks 120 years since the Turner watercolours were first exhibited at the Gallery. The exhibition showcases the work of two prominent English artists working centuries apart, while highlighting the importance of two key benefactors (Vaughan and Shaw), both of whom made lasting contributions to the Gallery.
Curator | Niamh MacNally
If you or your company wish to support our exhibition programme, our Development team will be delighted to speak with you about sponsorship or making a donation. Please call +353 (0) 1 632 5541 to speak to a member of the team.