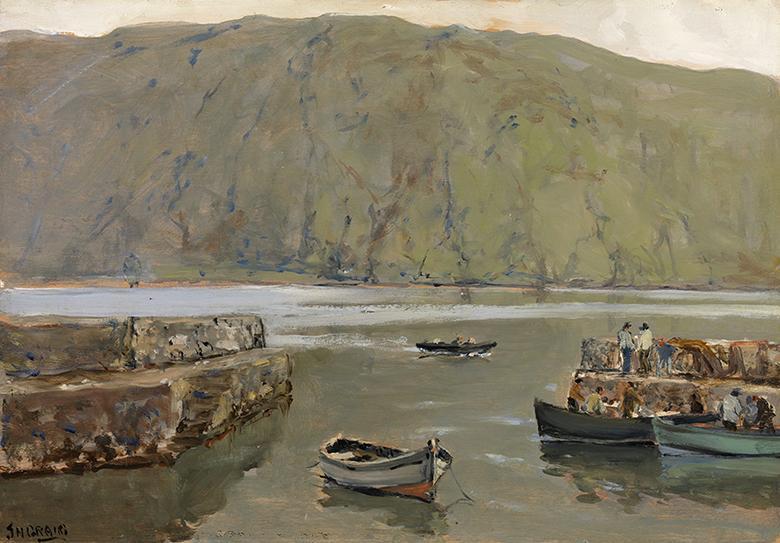 James Humbert Craig (1877-1944), The Harbour, Leenane. Photo © National Gallery of Ireland
Credit
Shaping Ireland: Community Projects
Shaping Ireland: Landscapes in Irish Art (13 April - 7 July 2019) was an exhibition spanning 250 years from the mid-eighteenth century to the present day. All four provinces were represented through both art and artists, and of the fifty artists included, twenty are living and working today.
Aosóg Community Programme: "There is no Planet B"
Strikes by school children are currently leading the protests for action against climate change across Europe. Working with Aosóg, a community-based project for children and their families in the North West Inner City Dublin, ecologically-focused artist Emily Robyn Archer engaged the young people in an art project focused on biodiversity and climate action.
RADE 
Using art, drama and education as therapeutic tools, RADE works to provide drug users with alternative forms of artistic expression. This project supported RADE's visual art strand and involved participants working with artist Joe Caslin to explore the personal meanings that the themes of Shaping Ireland held for the group. 
EVE Castleview HUB
EVE Castleview HUB supports people who experience mental health difficulties to live their lives based on their own personal goals. Focusing on the artistic dynamics present in Shaping Ireland, and working with artist Eimear Murphy, this project will encouraged participants to artistically engage with their local environment. 
Inishbofin Community Project 
A collaboration between the Gallery; Galway and Roscommon Education and Training Board; and the Inishbofin Community Centre, this project was open to all members of the Inishbofin community. Looking in-depth at the exhibition's themes and ecological concerns, the participants worked with artists Helen Monaghan and Helen Garvey to use drawing, photography and recycled materials to create a textile interpretation of an aspect of the island's landscape.
Read an interview with artist Helen Monaghan discussing this project