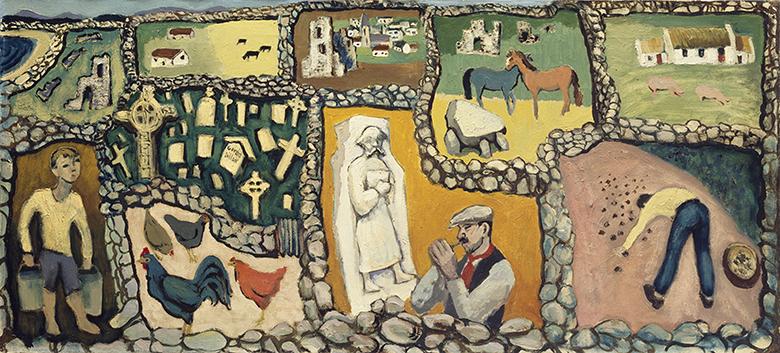 Gerard Dillon (1916-1971), The Little Green Fields, c.1946-1950. © The Estate of Gerard Dillon
Credit
Shaping Ireland for Schools
Shaping Ireland: Landscapes in Irish Art is an exhibition spanning 250 years from the mid-eighteenth century to the present day. All four provinces are represented through both art and artists, and of the fifty artists included, twenty are living and working today.
School Tours
Tuesday – Friday
Free | To book, email [email protected] or phone + 353 1 663 3510
Tours must be booked at least three weeks in advance. Tours available in English and Irish. 
Primary Schools Workshop: Seedbombs
Tuesdays & Wednesdays in May & June | 10am – 12pm
€150 per workshop (Max. 30 students per group) | BOOK ONLINE
Explore the exhibition with artist Emily Robyn Archer, and discover the important role of bees and other pollinators in the Irish ecosystem. This cross-curricular workshop will take students outside into Merrion Square to creatively explore the local environment. Students will make seedbombs to take home and help spread flowers across Ireland! Booking essential
Teachers' Tour
Thursday 2 May 2019 | 5.30pm
Free, but booking essential | BOOK ONLINE
A tour for teachers exploring curricular links that can be made with the exhibition Shaping Ireland: Landscapes in Irish Art.
Primary Schools Resource: Art and the Environment
Explore key works of Irish landscape art from the national collection, and learn how they can be used to inspire and inform creative cross-curricular environmental activities.
Download resource here [PDF, 2.5MB]
Teachers' CPD Course: Learning Without Walls
Thursday 16 May 2019 | 1pm – 4.30pm
€35 | Email [email protected] to book your place
Note: This course takes place in Russborough House and Parklands, Blessington, Co. Wicklow.
Join Prof. Carmel O'Sullivan, Trinity College Dublin, and Brian Poots, Director of the Northern Ireland Forest Schools Association, for a stimulating workshop exploring the theory and practice of teaching and learning creatively across the curriculum using arts-based pedagogies and nature as a stimulus to exploring our natural landscape.