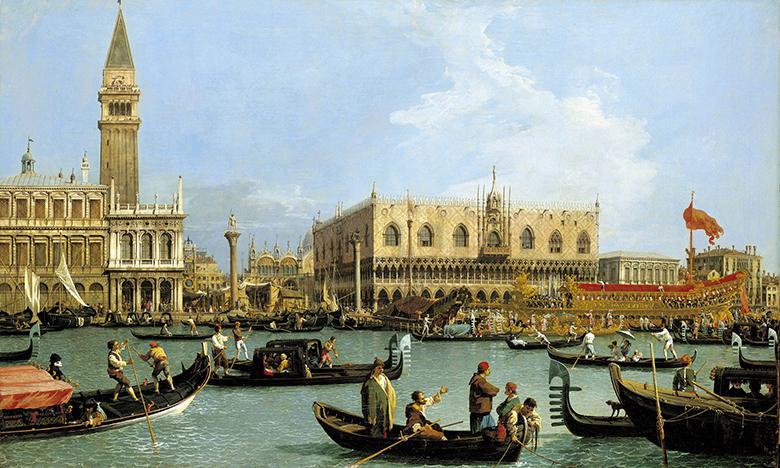 Canaletto (1697-1768), 'The Bacino of San Marco on Ascension Day', c.1733.
Royal Collection Trust / © Her Majesty Queen Elizabeth II 2018
Credit
Canaletto and his art, in a nutshell
The work of Venetian painter Canaletto (1697-1768) is at the heart of our exhibition Canaletto and the Art of Venice. Read on for five interesting facts about the artist who created some of the most iconic images of Venice.
Canaletto and the Art of Venice is on view until 24 March 2019.
1. His real name was Antonio Canal.
Born in Venice, Antonio began working in the same line of business as his father Bernardo Canal: as a painter of sets and backdrops for Venice's famous theatres. Antonio became known as Canaletto (little canal), probably to differentiate him from his father.
2. He is famous for painting views of Venice.
In the 1720s, Canaletto abandoned the world of theatre and began painting views of his native city. His images of Venice became hugely popular with the 'grand tourists', wealthy foreigners who thronged the city. These tourists brought Canaletto's paintings home as souvenirs of their visits. 
3. He often drew from a boat.
Canaletto closely observed the people, canals and buildings of Venice. Many of his drawings would have been made on the water, perhaps from an unsteady gondola. He then used these sketches as starting points for paintings and more worked-up drawings.
4. He exercised artistic license.
Canaletto's paintings seem almost photographic in their accuracy. However, he often changed the width of a canal, or removed less important buildings from his views, in his quest to create ideal images of his hometown. By the mid-eighteenth century his paintings were so well known in Britain that visitors were sometimes disappointed by the real Venice!
5. Despite his success, he lived a simple life
Although Canaletto's paintings achieved high prices in his lifetime, he lived frugally. An inventory of his property, made after his death, reveals his modest belongings: a small single bed with old bed-linen and covers, eight old shirts, six pairs of old white hose, five white nightcaps, four coats (three of them old and one of them dyed), two old pairs of breeches, two old waistcoats and two old hats. Of his four cloaks, three were listed as 'old' and one was listed as 'very old'. Little is known of his private life, yet his art reveals his enthusiasm, vitality and awe-inspiring talent.
___________________________________________________________________________
Discover more about this Venetian artist and his contemporaries at the exhibition Canaletto and the Art of Venice.