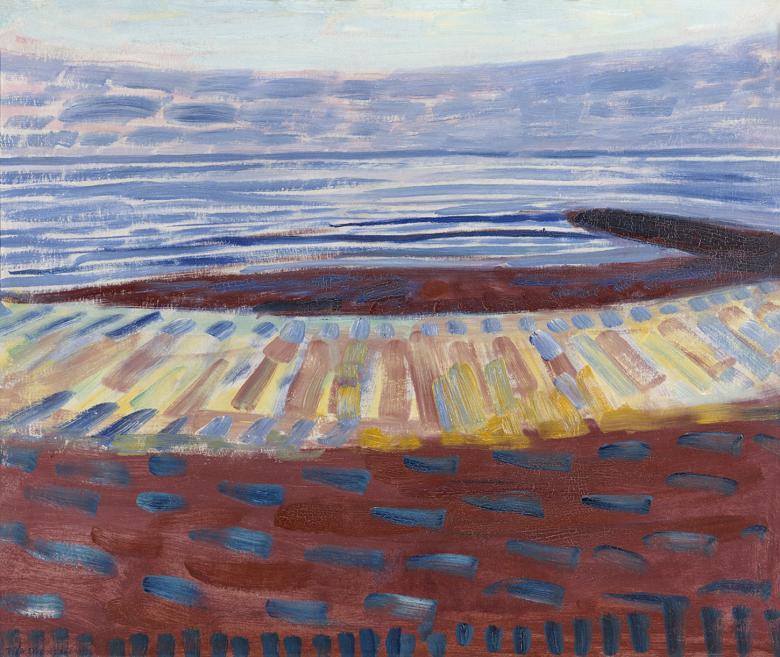 Piet Mondrian (1872-1944), Sea after sunset, 1909. Courtesy of Kunstmuseum Den Haag, The Hague, The Netherlands.
Credit
The Gallery is committed to fully inclusive access to its exhibitions and programmes, and here's what we have created for our Mondrian exhibition. 
Audio Described Online Video Tour
This tour is our first offering of this kind, allowing viewers to listen to descriptions of key works from this unique exhibition. Mondrian's paintings are brought to life with detailed explanations of the subject matter and painting style. This tour is available for all and is aimed at those with a visual impairment.
Access the audio described video tour
Dementia-inclusive Digital Resource
Our Mondrian exhibition themed, in-home resource has been devised as a support to carers of people who live with dementia. We have produced this resource as a means to access the National Gallery's exhibition programme from the comfort of your home. It includes advice on how to conduct a discussion session about the works and facilitate an art activity inspired by the works in the exhibition. You can see our previous dementia-inclusive resources here
Read the Mondrian dementia-inclusive resource
Sensory Friendly Online Workshop Video
A motif that is ever present in the early work of Piet Mondrian are towering windmills. His skies were painted as lively backdrops to these structures, with the light emphasising a particular time of day. With this workshop, we will focus on these windmills, distinctive vertical structures associated with the Netherlands, and which Mondrian returned to on numerous occasions. This step-by-step workshop video will use different textures and colours to demonstrate how to create your own windmill. This activity will engage your child's senses and is particularly suitable for those who seek out sensory input.